The 288th Hunter Exam was held on January 7th,[1] 2000,[2] while Biscuit Krueger and Gon Freecss trained inside Greed Island.[3] The exam site was in Beeskafmarro,[2] Diksakura store[3] (basement)[4] by the station and the only graduating participant was Killua.[3]
Applicants
Passed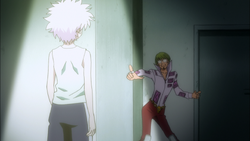 Failed
Examiners
First Phase
Trivia
Anime and Manga Differences
Some characters do not appear in the anime adaptations of the exam.
Regarding the Hunter examinees' badge numbers, of the known characters:

in the manga, only Killua's examinee number (#1219) is revealed;[3]
in the 1999 anime adaptation, besides Killua's number, Amori's (#83), Imori's (#81), and Umori's (#82) numbers are also displayed;[5]
and, in the 2011 anime adaptation, besides Killua's number, Tonpa's (#36), Amori's (#127), Imori's (#128), Umori's (#129), Ponzu's (#233), and Zepile's (#1100) numbers are shown too.[4]
References
↑

Hunter × Hunter - Volume 15, Chapter 147
Community content is available under
CC-BY-SA
unless otherwise noted.