Wiki Targeted (Entertainment)
Play Sound
Barrigen (バリゲン, Barigen) was a Royal Bodyguard for Prince Marayam chosen by Queen Sevanti. He was under a mission from Queen Sevanti to learn Nen from Kurapika within the two-week time limit,[1] until his demise.[2]
Appearance
As a Royal Bodyguard, he wore a black suit and a tie.[3]
Personality
Not much was known about Barrigen's personality, but he seemed delighted to be chosen over Vergei to attend Kurapika's teaching about Nen.[3]
Plot
Succession Contest arc
In an outlook of Twelfth and Thirteenth Princes' rooms, Barrigen is shown to be in a room over from Prince Marayam and Queen Sevanti.[1]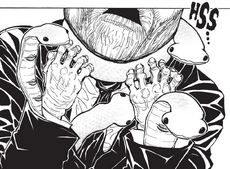 Queen Sevanti sends Belerainte and Barrigen to attend Kurapika's two-week Nen training seminar. His orders include learning Nen within the time limit and that it's a royal order. Elated to hear that he was chosen over Vergei, Barrigen motivates himself that he'll seize the chance for sure.[3] At Kurapika's request, he states his name and affiliation. The moment Loberry distracts everyone claiming there's a strange woman, Barrigen's blood drains from his body causing him to shrivel and perish. Four white snakes called Silent Majority emerge from under Barrigen's clothes and Sakata fires at the white snakes destroying them. Immediately Belerainte examines his body and claims he could have been still alive, but Sakata bullets certainly did. Sakata refutes the claim, arguing he was obviously dead from the snake attack.[2]
Translations around the World
| Language | Name |
| --- | --- |
| Arabic | باريگين |
| Chinese | 巴里根 |
References