Pros (プロ, Puro) is the 191st chapter of the Hunter × Hunter manga, written and illustrated by Yoshihiro Togashi.
Synopsis
Gon, Killua, and Kite arrive at a village that the Ants have already emptied for food. As the three go over the scene, Gon suddenly smells something and leads Killua and Kite toward the scent. They come across three horses that have been impaled on tree trunks. Gon realizes that it's just like how a shrike acts, leaving Killua confused. Kite explains that it's a bird that impales its prey on twigs to feed upon them more easily.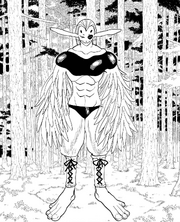 At this moment, a large Ant with feathers covering his arms comes out of a nearby forest, pointing toward the horses and saying that they belong to him. Rammot orders the Hunters to stay away and suddenly lunges toward them, easily pushing Gon and Killua back. Kite is able to evade the attack, and Rammot recognizes his strength and says that he should be careful while fighting against him. But to his shock, Kite begins to calmly walk away and tells the two boys to fight him. He states that the Ant is just a soldier, and tells the two that they should go home if they can't beat him.
With their aura swelling around them, Killua and Gon agree to fight the Ant while confidently telling Kite that they too are professionals and that he shouldn't treat them like kids. Rammot is confused that the two suddenly seem stronger, and prepares himself for their attack, easily blocking Killua's kick with his left arm and sending Gon back with his right. He lands a strike on Killua as Gon charges back in, throwing a hard right, but Rammot dodges the punch.
Killua says it's time for him to test something, suddenly jumping high into the air and unleashing Thunderbolt on Rammot. Kite is impressed by the attack, and it momentarily paralyzes Rammot, allowing Gon to charge up Rock and land the attack to his midsection. Rammot is sent flying and Killua says it was a perfect shot, but as the three Hunters look on, Colt swoops in and catches Rammot, looking back at them with a serious glare. As Rammot is carried away, he viciously shouts at the two boys, swearing to get revenge by eating them. The two boys are shocked, as they realize that their attacks had done next to no damage. Kite notes Colt's intelligence by sending a weaker Ant to tip their hand. He reassures Gon and Killua by saying that they weren't bad, but just need more experience. He then turns serious and tells the two that they will get the experience here, but only the strong will survive in the bloodbath to come. He says that from here on out, they are going to go through hell. The two boys ardently reply that they are coming along with him.
Characters in Order of Appearance
Community content is available under
CC-BY-SA
unless otherwise noted.