Scissors (チョキ, Choki) is the 193rd chapter of the Hunter × Hunter manga, written and illustrated by Yoshihiro Togashi.
Synopsis
Centipede and Mosquito continue charging forward, with the latter confident that his "Thousand-Hand Fist" can't be avoided. As Centipede throws his punches, Gon quickly moves out of the way and punches him hard in the side, striking several of his arms. Centipede staggers at first, but quickly recovers and is left impressed by Gon's strength. Gon notes that these Chimera Ants have not only the toughness of insects, but the flexibility of humans. He realizes that Kite was right and decides not to hold back as he begins to charge up Rock.
Meanwhile, Mosquito plays around with Killua, asking what she should name him after he becomes their dog. But Killua wastes no time and attacks her using "The Snake Awakens," managing to cut off one of her arms. Enraged, Mosquito shoots out a stinger from her mouth, which Killua is able to dodge, but it turns out just to be a decoy, and she manages to sting him in the back with the real poisonous stinger on her tail. Killua crumples to the ground, and thinking that she has accomplished her mission, she turns around to observe Centipede's fight.
Immediately after turning around, however, her world seems to turn upside down, and Killua is seen sitting on her shoulders after twisting her head. Mosquito falls to her knees in disbelief, and Killua tells her that poison doesn't work on him, promising to kill her quickly if she doesn't fight back. The Ant admits that she was weaker than him, and Killua uses his sharpened claws to destroy her head.
As Gon continues to charge up his attack, Centipede suddenly becomes nervous when he feels the amount of power emanating from him, realizing that if he gets any closer, he could take severe damage. But at the same time he worries about Yunju, who called him a chicken and ordered him to strike. Centipede realizes that Yunju will kill him if he runs away, and so he quickly analyzes Gon's ability, deducing that the power comes from his fist. He goes on to guess that Gon will throw a punch ten times stronger than his previous one, and so Centipede plans to sacrifice his eight left arms in order to capture Gon using his eight remaining arms, which will allow him to bite down and deliver his poison.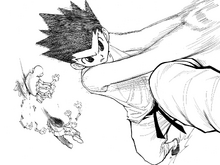 Having devised his strategy, Centipede charges toward Gon, protecting his body with his eight left arms as Gon begins his Janken chant. But to his shock, Gon shouts out Scissors and slices him in half. As Centipede's two halves fall to the ground, the Ant is in disbelief at Gon's sword and wonders where he was hiding it. But Centipede suddenly realizes how he can take advantage of the situation, saying that he will pretend to be dead and then bite Gon when he turns back.
Before he can carry out his plan, however, Kite shoots Centipede in the head with a gun and tells Gon that he should not have relaxed after his attack, explaining that Chimera Ants can live an entire day even after being decapitated. As Kite stands in front of Yunju's body and stresses to Gon to make sure that the head is destroyed, Kite's ability speaks up and tells the two boys to kill quickly and quietly if they can, sporting a clown face and chuckling.
Characters in Order of Appearance
Community content is available under
CC-BY-SA
unless otherwise noted.