Wiki Targeted (Entertainment)
Play Sound
vs. Hagya's Squad: Part 1 (VSハギャ隊(1), Bāsasu Hagya Tai (1)) is the 194th chapter of the Hunter × Hunter manga, written and illustrated by Yoshihiro Togashi.
Synopsis
Kite's Nen ability explains to Gon and Killua that it has a roulette in its mouth with the numbers 1 to 9, and each corresponds to a different weapon. The ability then introduces itself as Crazy Slots, but before it can say anything more, Kite says enough and makes it vanish. The fact that it can talk on its own unnerves Killua, and Gon asks Kite if a roulette means he can't choose what weapon he gets. Kite confirms this and adds that once he gets a weapon, he can't exchange it or put it away until he uses it. He says that it's annoying, and both Gon and Killua wonder why he made it that way.
Kite compliments Gon and Killua's abilities, saying that they seem more useful than his. He guesses that Gon is using Enhancement, Transmutation, and Emission in his rock-paper-scissors, and Gon confirms this, adding that he's an Enhancer. Kite then asks Killua if he's a Transmuter using electricity, which Killua confirms, but he says that it's not too strong and doesn't last long. Kite tells the two boys that they will "level up" during the mission, saying that they should hurry since the nest is close.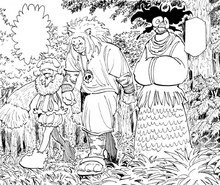 Elsewhere, Flutter tells Hagya and Hinrin that Yunju's signal disappeared, guessing that he was killed. Hagya realizes that the three humans must be rares and tells his two comrades that they will feast tonight.
Meanwhile, outside of NGL, Banana explains to Stick, Spinner, and Lin that the hierarchy of the Chimera Ants has five levels with the Queen at the top, followed by the Royal Guards, Squadron Leaders, officers, and finally the peons and drudges. But she goes on to say that after the King is born, he and the Royal Guards separate themselves from the colony. As the Queen remains in the nest and produces more Kings, those move out as well and mate with other species to eventually impregnate the next Queen.
Banana then states that to stop the Ants from multiplying, they first have to kill the Queen before she gives birth to a King, but she worries about having to deal with all the soldier Ants protecting her. Just then, Spinner gets a call and is informed that the first Extermination Team will arrive in three days.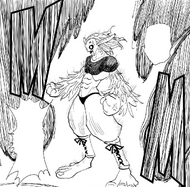 In the Ants' nest, Peggy approaches Colt and asks him if something is wrong. Colt says that he received a signal from one of his men that Rammot was acting odd. The two Ants catch sight of Rammot, who is seen with aura swelling around him as he laughs maniacally and says that he feels reborn. Colt asks Peggy if he can see the light around Rammot, and Peggy says that he can, anxious as he looks upon the formidable power. Colt says that he knew it was possible since the humans could do it, realizing that the trigger for awakening it must be their attacks. He asks Rammot to hit him, and Peggy can't believe Colt's statement. Rammot asks Colt if he's sure since he won't hold back with his attack, and Colt is fine with it, saying that the attack needs to be strong enough to work. A frightened Peggy looks on as Rammot winds up and sends Colt far back with a heavy punch.
Back in the forest, numerous Chimera Ants are seen lurking in the shadows, and Hagya contacts the troops of his squad telepathically, ordering them to find and capture rare prey hiding around the factory, adding that they can be dead or alive. One of the Ants spots the three Hunters, and elsewhere Flutter asks Hagya if the troops can handle the task. Hagya is confident that his officers can put up a good fight, but knows that they won't work as a team, only hoping that they will buy time until the three of them arrive. Kite spots Ants standing on the ridge above them, telling Gon and Killua that they're surrounded as numerous Ants reveal themselves in the forest. Frog approaches the three and asks them about deciding the order in which they die.
Characters in Order of Appearance