Light and Shadow (光と影, Hikari to Kage) is the 199th chapter of the Hunter × Hunter manga, written and illustrated by Yoshihiro Togashi.
Synopsis
The NGL interpreter and her partner spot someone in the distance, and Killua is seen carrying an unconscious Gon on his back. Exhausted, he finally reaches NGL's border stop and calls Spin to tell her about the situation with Kite. She becomes furious that the two of them left him behind, but Monta takes the phone from her and tells Killua that he and the other companions of Kite are bringing reinforcements.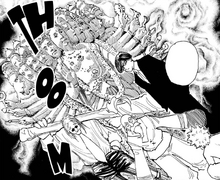 When their truck arrives and three figures exit, Killua is surprised to see Netero and two unfamiliar Hunters accompanying him. One of them mocks Killua and Gon for being children, bluntly telling them to go home to their mommy. The other reveals that the first man's name is Morel, telling him to not be so harsh since they're only children. Netero asks Killua about the strength of their opponent, and Killua says that one of them could use Nen, describing their aura as creepy and stating that it was worse than even that of his brother or Hisoka. Now that he can use Nen as well, Killua recognizes the power of Netero and the other two Hunters, but thinks that they can't defeat the enemy in question.
The man in the black suit says that people usually overrate things they don't comprehend, telling Killua that he is in a state of panic and that he should leave things to them. Morel laughs and wonders how his scathing reply was any different from his own. He goes on to explain to Killua that calculating the odds in a Nen battle is missing the point, saying that one never knows what their opponent's ability is and that the amount of aura isn't an excuse since hesitating even slightly could prove fatal. He continues by saying that a battle's ebb and flow is the essence of Nen combat, telling Killua to fight with complete confidence that he will win, which is what it takes to be a Nen master. Finally, he scolds Killua for running away from his opponent's Nen and says that it made him even less than a loser, calling him a failure.
The other Hunter stops Morel's chiding, and Netero asks if Gon is asleep. Killua says that he stopped him when he tried to attack, and Morel again laughs, saying that Gon has more of a future. Netero can't believe that giant Chimera Ants are eating humans, but is ready to face the threat, stressing to Killua that they have to go all-out or they risk being assimilated. Killua gives a short reply and realizes that that's the reason why only a select few were sent.
Before Netero leaves, he informs Killua that he has sent two assassins to the nearest city. He pulls out two tiles broken in half and tells Killua that it's their decision whether they want to fight them or not. He tosses the pieces behind his back and says that if they want to live as Hunters, they should defeat the assassins and then come find them, stressing that they only need the help of the strong.
Reaching the city and still carrying Gon, Killua reads a note left behind by the two assassins asking if they will fight. He carries Gon to a hotel and waits until he wakes up. When he does, Gon immediately thanks Killua for knocking him out, admitting that he would have been in the way of Kite and put all three of them in danger. Killua feels guilty for leaving Kite to die, but Gon quickly replies that Kite is still alive, confident that he wouldn't have been beaten by an opponent like that. He believes that Kite is staying hidden due to his injuries, waiting for the two of them to come back for him.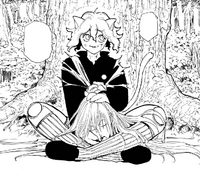 Killua seems surprised by his friend's confidence, and Gon says that they have to get stronger so they can save Kite as soon as possible. Killua is starstruck and describes Gon as light itself, thinking that he's so bright sometimes that he can't even look at him, but wonders if he can still stay by his side. Killua agrees with Gon's plan, and the two return to the message board, replying that they will fight the assassins. Meanwhile, back in NGL, someone asks that a freezing chamber big enough to store more than 100 humans be prepared in the nest. Sitting at the base of a tree and glad that their collection won't get spoiled, Neferpitou holds the decapitated head of Kite on their lap and says that they are pretty strong.
Characters in Order of Appearance
Community content is available under
CC-BY-SA
unless otherwise noted.