Stipulation (条件, Jōken) is the 200th chapter of the Hunter × Hunter manga, written and illustrated by Yoshihiro Togashi.
While wandering the streets, Killua explains to Gon about the broken plates given to them by Chairman Netero. According to Killua, the plates are usually made out of bamboo and are used to support the authenticity of documents, or in their case, to identify the other two assassins sent by the chairman. They return to the train station and find out that the message has been erased, meaning that someone is watching them. From behind, a woman with long, black hair introduces herself as Palm Siberia. In order to discuss the situation, she invites the two boys for tea.
Palm explains that she is the apprentice of Knov, and begins a monologue on how cool and collected her master is, implying that she has some form of crush on Knov. Killua cuts her off by reminding her that they are supposed to fight, but Palm says otherwise; according to the chairman and Knov, Palm can only go as far as the city. She could, however, join the extermination team once she defeats Knuckle and Shoot. Palm unleashes her hatred for Knuckle and Shoot and turns on her Hatsu, which indicates that she is an Enhancer, like Gon. She tells Gon and Killua that they are required to fight Knuckle and Shoot, the apprentices of Morel. Palm informs them that only one group could enter NGL, and they only have one month to fight.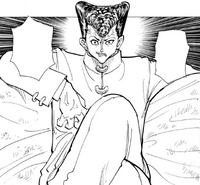 Back in the Chimera Ants' nest, the corpse of Kite has been laid out. Behind it, Neferpitou admits that they want to experience the same thrill of fighting Kite once again. Thus, they form a Nen ability that will fix Kite.
Elsewhere, Shoot guesses that another group will come to take their plates, and asks Knuckle about their plan of action. Confidently, Knuckle exclaims that they should find their opponents and kill them.
Characters in Order of Appearance
Edit
Community content is available under
CC-BY-SA
unless otherwise noted.