Wiki Targeted (Entertainment)
Play Sound
Weakness: Part 1 (弱点(1), Jakuten (1)) is the 207th chapter of the Hunter × Hunter manga, written and illustrated by Yoshihiro Togashi.
Synopsis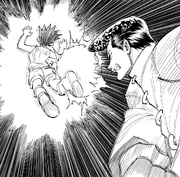 Knuckle punches Gon with a hard right, disorienting him and following it up with a strong kick to his side. He then uses that opportunity to move behind him and land a hard punch to his back, with Gon reeling from the strike and Killua having trouble watching. Gon tries his best to recover and can't believe that Knuckle is just warming up. Knuckle wonders if he's going to use his "show me rock" attack, betting that Gon can't because of how flawed it is. He warns Gon that he will prevent him from using it, especially in a one-on-one fight, stating that his signature move has two flaws.
But before pointing them out, Knuckle asks for the technique's name. As Gon realizes that he never came up with one for it, he stutters out "Ja-- janken" on the spot, and Knuckle notes the meaning of "rock-paper-scissors," believing that the extra "Ja" was intentional to give it flair, like saying, "Ta-da!" Gon thinks to himself that he actually just stuttered, but Knuckle compliments him on the name, with Gon not telling him the truth and Killua in disbelief at the exchange.
Knuckle then states Jajanken's two big weaknesses: first, it takes a considerable amount of time to charge up, and he adds that the few seconds before a move during combat is like a lifetime, which means he won't get many chances to utilize it (and Gon knows this); second, it puts Gon in considerable jeopardy because the more aura he concentrates around his fists means he'll have less to protect the rest of his body. Knuckle stresses that Gon will end up dead if someone strikes where he's vulnerable, but Gon replies that he is aware of the risks, saying that he trained over the past month so he could compensate for them.
After making his declaration, Gon unleashes his Ren and his aura swells around him, impressing Knuckle who thinks that he has as much as a mid-ranking Hunter. But as Knuckle says to himself that Gon still lacks experience, he sends him back with a hard punch. Gon quickly recovers, but Knuckle throws another punch and sends him back again, knowing that Gon hasn't fought enough in real combat. While he compliments Gon's decisiveness and natural talent, he thinks that the flow of aura around his body is too rough, allowing him to easily tell what Gon is protecting and what he will do next.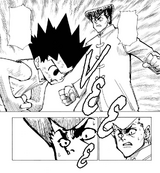 Knuckle is confident in his analysis and lands another punch, leaving Gon holding his side after the strike. Killua realizes that Knuckle is easily reading Gon's aura, and Knuckle says that he's done warming up, telling Gon not to blame him if he dies. Gon understands how generous Knuckle was being to him by warning him in advance and giving him advice. He realizes that the fight would have been over in seconds if Knuckle hadn't been teaching him how to get stronger. But he thinks that Knuckle is being too generous, suddenly clenching his fist and charging up Rock. Knuckle immediately runs forward and kicks Gon hard in the face, reminding him about his warning and asking him if he's mocking him. Gon staggers to his feet and asks Knuckle if that's all he has, reminding Knuckle that the two are supposed to be fighting for real and angrily ordering him to attack like he's going to kill him. As Knuckle stands in silence, Gon begins charging up another Rock, with Knuckle unable to believe how fearless the boy is.
Characters in Order of Appearance