Wiki Targeted (Entertainment)
Play Sound
Weakness: Part 2 (弱点(2), Jakuten (2)) is the 208th chapter of the Hunter × Hunter manga, written and illustrated by Yoshihiro Togashi.
Synopsis
As Gon once again starts to charge his Jajanken, Knuckle tries to stop him by punching him, but Gon dodges out the way and appears behind him. Knuckle swings his arm to strike him, but Gon ducks below the attack and kicks Knuckle in the leg, causing him to lose his footing. And before Knuckle can fall, Gon punches him in the face and begins to charge his Jajanken once again, but Knuckle quickly recovers and kicks Gon in the chin, causing him to fall along with himself.
Knuckle sits up shocked and realizes that Gon used his Jajanken as a feint. Gon stands up and states that he could clearly see that Knuckle was trying to prevent his attack and so it was easy to counter his obvious punch. Killua mentally praises Gon for using Jajanken's long windup to his advantage by messing with Knuckle's mind. He observes that, to Knuckle, Gon's Jajanken is like a perfect pitch right over the plate that a batter in baseball is eagerly looking for. But because the batter is so eager to make contact, he tries too hard and tenses up, resulting in a poor hit. Killua says that it's the same for aura, which focuses in a specific spot where someone tenses up and then balloons right as they go to attack He adds that if an inexperienced Nen user gets too excited or panics during a fight, his aura and plan of attack becomes readable and too predictable. And he says that since Gon rattled Knuckle earlier by pointing out his soft side, he made the feint more successful, adding that Gon's strategy is more effective against someone who is aware of Jajanken since they know how dangerous it is when he starts charging it up.
Killua also understands that the strategy is effective even if the enemy jumps back to avoid Rock, because Gon can then use Scissors or Paper to attack them at a distance. He realizes that he was wrong about Jajanken being harder to use if the enemy already knew about it, saying that Gon can use it in various ways. He points out that Gon has gotten better control of his aura during the fight and that Knuckle will have a harder time differentiating between a feint and the actual thing, amazed at how quickly Gon was able to learn and improve during combat.
Meanwhile, Gon is finding it harder to maintain Ken, even though it hasn't even been twenty minutes since the fight started. He realizes that the way he was fighting was using up large amounts of energy, deducing that if one hour of training translates to ten minutes in combat, he only has ten minutes left before completely exhausting himself. He resolves to finish the fight with his Jajanken before he runs out of aura and inevitably loses.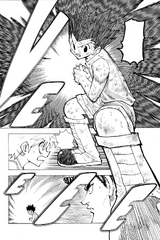 Gon and Knuckle continue to fight hand-to-hand, fiercely trading blows as Killua observes that Knuckle still has the edge, but seeing that Gon is gradually starting to hold his own. He recognizes that Gon is using more aura for a defense to minimize the damage from Knuckle's strikes, as well as adjusting to Knuckle's speed and not falling prey to any surprise attacks. But he recognizes that Gon is out of time, seeing that his stamina is at its limit because Jajanken requires so much aura to activate, while Knuckle is conserving his energy by only using simple attacks. Killua points out that Gon spent a considerable amount of aura in the feints alone, saying that he's used Jajanken three times already and that if he uses it again, he would only last another minute or two after that. Knuckle punches Gon with a hard right, and Gon is sent far back even after blocking it, having trouble catching his breath as he recovers from the strike. Knuckle addresses Gon and says that he isn't worth using his full strength on. As Knuckle starts to call Gon weak, Gon interrupts him by once again starting to charge his Jajanken, preparing to throw Rock and surprising both Knuckle and Killua.
Characters in Order of Appearance