? (?, ?) is the 209th chapter of the Hunter × Hunter manga, written and illustrated by Yoshihiro Togashi.
Synopsis
As Gon continues charging up his Jajanken, Killua wonders why he's using it when it won't be effective from so far away. After Knuckle realizes that it will be last attack, Gon begins his chant, but instead of ending with Rock, he says Paper and sends out a ball of aura. Knuckle is surprised by the Emission attack, but quickly recognizes how weak it is compared to Rock. He remains confident and easily bats the aura ball back, but Gon suddenly says Round 2 and appears right behind Knuckle, who realizes that Gon used Paper as a distraction to create a Jajanken combo attack.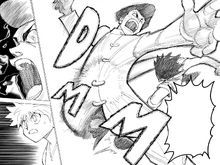 Gon seems to unleash Rock right into the back of Knuckle, who appears reeling from the attack, but Gon suddenly falls to the ground and Knuckle stands motionless. Gon lies unconscious and Knuckle recognizes that he used up all his aura before he could throw Rock, realizing that Gon would have beaten him if he had been able to use the attack.
As Killua picks up Gon and puts him on his back, Knuckle asks him why he isn't going to fight, saying that he can easily take him. Killua says that Gon will fight him again tomorrow, but things will go differently, adding that he will fight Shoot. Knuckle asks Killua to tell Gon that he will fight him for real tomorrow, saying that he better be ready to die. Killua scoffs at his promise and says that his victory won't matter if he doesn't give it his all. He suddenly puts on a menacing glare and tells Knuckle that if he loses without using all his strength, he will never forgive him.
Killua walks away carrying Gon, and Shoot reveals himself from the nearby forest, commenting on how soft Knuckle is for helping the enemy. He asks Knuckle why he doesn't just give his tile to them if he doesn't want to go to NGL, though he adds that the boys wouldn't accept it anyway. Knuckle becomes angry and calls out Shoot for acting superior while hiding in the shadows for the past month, but Shoot declares that he will fight tomorrow.
Back in the hotel, Gon lies snoring in bed, and Biscuit assures Killua that he will be fully recovered by tomorrow since she used Piano Massage on him. She says to herself that she's actually more worried about Killua since he didn't get to fight during the entire month. She suddenly throws off her overdress and tells Killua to spar with her right there.
Characters in Order of Appearance
Community content is available under
CC-BY-SA
unless otherwise noted.