Last Words (遺言, Yuigon) is the 215th chapter of the Hunter × Hunter manga, written and illustrated by Yoshihiro Togashi.
Synopsis
Chairman Netero speaks to someone over the phone and informs them that the King has already been born. He asks them to send the Chimera Ant research team and Dr. Lee so that she can assemble a team of surgeons and artificial organ specialists. After the call, he tells Morel and Knov that they will leave in four hours. He then suddenly cuts his hair and requests Colt's cooperation. Changing into his "heart" t-shirt, which Knov says Netero only wears when he fights for real, he unleashes a tremendous amount of aura and asks Colt to compare his to the King's. Morel is astonished by Netero's aura, and Colt answers that Netero probably couldn't even touch the King, adding that he would be killed by one of the Royal Guards first. Chuckling, Netero is thrilled to have a challenger at his age, and his expression becomes sinister and frightens the two Hunters. He instructs Morel to take his students and the doctors with Colt back to the Chimera Ant Nest. He begins to leave, and Morel becomes worried that he's going to fight the King by himself, but Netero assures him that he's going to see an old friend.
In the Chimera Ant Nest, Colt learns from Bihorn and Small Bear that most of the soldiers have already left and joined other troops, with only some of them, including Koala, choosing to stay behind. Dr. Lee and her team tend to the Queen and proceed to attach artificial organs within her abdomen. Colt offers his organs and blood, but Dr. Lee explains that Chimera Ants differ in each generation, making donations impossible. She tells him that he should pray for the organs to be successful, and Colt feels helpless as he sits beside the Queen.
Suddenly, the Queen starts talking telepathically. She asks if her son was born healthy, and Colt assures her that the King and his Royal Guards are looking for herbs to save her. Octopus reveals to the doctors and Hunters that the King killed and ate some of the Squadron Leaders before leaving, saying that he probably won't return since he doesn't care about the Queen's well-being at all. The Queen worries about her son being born prematurely, but Colt reassures her that he was born healthy, leaving her glad that her destiny has been fulfilled. Colt pleads with her and says that the rest of them will be lost without her, but the Queen tells him that her injuries are fatal. Colt again begs Dr. Lee to let them use his organs, but she tells him to listen to the Queen and respect her wishes. The Queen tells them that she has one last request, saying that she thought of a name for her son: Meruem, which means "light that illuminates all". She asks them to let him know, and upon revealing his name, she thinks of her beloved son and dies soon after.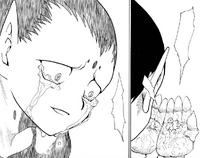 Colt becomes devastated, claiming that he couldn't save her again and angry that he can't save anyone. When Knov asks if something happened before, Small Bear explains that Colt must be mixing it up with his human memories, and Morel is shocked that they still have them. Small Bear explains that it can vary, but says that their previous personalities affect them greatly, with some of them even able to remember their human names. As Small Bear says that it also allowed them to learn speech so quickly, the group notices something moving inside the Queen's womb. Small Bear moves in closer, but Colt orders him not to touch her, saying that he will get it out. He reaches inside and takes out a tiny baby, holding it in the palm of his hand. The baby begins to move and cry, causing Colt himself to cry with a smile on his face. He swears to protect the baby, but Morel suddenly approaches him and holds his pipe right beside Colt's head. Knov is confused, but Morel asks Colt if he can swear that he and the baby will never eat a human, telling him to leave if he can't. But he says that if Colt can swear to it, he will protect the both of them as long as he lives. After making his promise, Morel starts to cry as well, and so does Knuckle, chuckling and saying that he inherited his soft side from his master. Colt then briefly thinks back to his human life as Kurt, with his mother and sister Reina.
Characters in Order of Appearance
Community content is available under
CC-BY-SA
unless otherwise noted.