10: Part 4 (10-(4), Jū (4)) is the 226th chapter of the Hunter × Hunter manga, written and illustrated by Yoshihiro Togashi.
Synopsis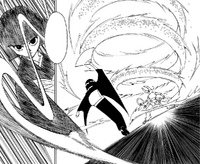 Kalluto brings out his paper fan and confetti, and uses the wind to manipulate the paper towards his enemy. As the confetti sticks onto his body, the Small Beetle mocks Kalluto for his weak attack. Kalluto continues whirling his fan, surrounding his opponent with more confetti. Agitated, the Ant uses his steel rope to attack, yet Kalluto uses his fan to easily cut it apart. Kalluto uses his Dance of the Serpent's Bite ability to dismember his opponent, while also warning the Ant that he will remove his right arm next.
Elsewhere, Shalnark struggles to stick his antenna into the large beetle-like Chimera Ant. Once he realizes that the Ant's claws are sharp, he deduces that he has a 20% chance to escape without injury. He takes some damage, but successfully stabs the Ant with his antenna. He pulls out his cell phone to begin controlling it, but suddenly gets trapped between the claws of his opponent, leaving him confused since the Ant should have been under his command.
Another Chimera Ant named Boki arrives, who controls Pell using a remote controller, guessing that Shalnark is also a Manipulator and that sticking an antenna into an opponent is one of his conditions. Shalnark realizes that his ability didn't activate because Pell is already being controlled by Boki, who confirms this and says that he will now take him to the queen. Shalnark is unable to escape Pell's clutches and says that he has no choice, even though he doesn't feel like using it.
With a free punch, Phinks begins winding his arm while counting. At fifteen, he punches the gorilla-like Chimera Ant and kills him in the process. As he looks down on his kill, Phinks admonishes himself that half of his Ripper Cyclotron would have been enough to defeat his enemy. Later, he flips a coin to choose the next path he will take.
Finally, Feitan and Zazan encounter each other and proceed to fight. Feitan uses his incredible speed and sword umbrella to attack the self-proclaimed queen. As Zazan's shirt is ripped apart by his attack, she comments on his hidden sword and says that Feitan likes to conceal things under his clothing. Feitan says that the two of them think alike since it's only common to assume so when someone wears baggy clothing.
Characters in Order of Appearance
Community content is available under
CC-BY-SA
unless otherwise noted.