Wiki Targeted (Entertainment)
Play Sound
10: Part 6 (10-(6), Jū (6)) is the 228th chapter of the Hunter × Hunter manga, written and illustrated by Yoshihiro Togashi.
Synopsis
Pike begins to laugh and says Shizuku is even dumber than he is. Asking her how she expects to win when she said she would run, Pike scoffs at her. Shizuku replies that she said she would only be keeping her distance and not running. With Pike confused and merely giving her a dumbfounded stare, she tells him that she will show him the difference and orders Blinky to suck up all his blood.
Blinky begins to suck up all of Pike's blood through the wounds Shizuku had given him right after escaping, much to his shock. He spews some silk at her to stop her but she evades, as his blood continues to be drained. Pike begins to feel dizzy and then has the idea to use all his limbs to cover up the wounds. However, as he does so he finds that he has more wounds than he can cover-up. Shizuku tells him that she wounded him in twenty-nine carefully chosen spots so that he would be unable to plug them up even with his extra limbs. Blinky finishes sucking up all of his blood and Pike shrivels up, falling unconscious. Shizuku begins to run away, but is suddenly struck with a revelation and runs back to Pike. She tells him that if he had covered himself up with his own silk, then it would have stopped the bleeding. This leads her to call the both of them stupid.
Meanwhile, Feitan continues his battle with Zazan, managing to parry and evade the flurry of attacks the queen makes with her stinger. Kalluto looks on in awe at the speed of their exchanges, barely able to keep up with their movements. The other Spiders look on at the battle and note that Feitan's movements have improved, but are still nowhere near his peak capabilities. Kalluto is shocked that they had all arrived so much earlier than him that they had even gotten comfortable on the sidelines. Staring at the battle, Kalluto accepts with a smirk that he's nowhere near their level. Shizuku arrives wearing her torn clothes.
The others are surprised to see her in a battered condition and ask her what happened. She responds that she had trouble with Pike, and Phinks asks her if she lost, to which she snappily retorts that she didn't. Turning their attention back to Feitan, the Spiders continue analyzing the fight and Shizuku notes that Zazan is quite powerful and must be the queen. She then reiterates that Feitan is moving poorly, with Kalluto thinking irritably that he has heard that before and being self-conscious that he was barely able to keep up with even this inferior movement and has far to go.
Feitan then sheathes his blade back into his umbrella and closes it. He creates a large number of afterimages and attacks Zazan from behind. She catches it with her stinger and exasperatedly notes that he is getting quicker and that the rest of the Spiders are beginning to flock over, meaning her men have all been defeated. Feitan then presses a button at the bottom of his umbrella handle, and the tip of the umbrella shoots forward, wounding Zazan's face right next to her left eye.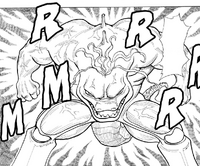 Enraged at this scarring of her face, Zazan rips off her stinger and transforms into a more lizard-like form, growing a new tail and gaining a considerable amount of muscle. Feitan takes advantage of Zazan taking her eyes off him by swooping behind her and attacking with Ko right at the back of her neck. However, his blade snaps on contact with her, and she fires off a weak blast of aura at him, tearing the front of his shirt. Phinks notes that Feitan's Ko attack backfired as that left him defenseless and even the weak emission from Zazan dealt severe damage.
Zazan laughs and says her body is indestructible, while Kalluto asks if they should help Feitan, but Phinks says that it is a race and the next person could give it a try if Feitan failed. As the Spiders argue over who will get to fight Zazan in case Feitan loses, Kalluto asks himself what is wrong with them and calls them a bunch of freaks.
Characters in Order of Appearance