10: Part 7 (10-(7), Jū (7)) is the 229th chapter of the Hunter × Hunter manga, written and illustrated by Yoshihiro Togashi.
Synopsis
The other Spiders continue to watch the fight between Feitan and Zazan, and with a coin toss, it's decided that Bonolenov will fight her next if Feitan loses. Kalluto realizes how much he underestimated the Phantom Troupe, but stays resolved in working his way up through their ranks. He adds that he wants to get his brother back, no matter long it takes, and a family photo is shown with all the Zoldyck sons and their mother, along with an unknown sibling facing the other way in the background.
In the midst of the fight, Feitan's left arm is suddenly broken, and Phinks playfully asks if he wants to switch with Bonolenov. Aura begins swelling around Feitan, and he angrily uses an unknown language as he spits out blood. The other Spiders realize how serious he is, and head for cover as they tell a confused Kalluto to do the same. Shizuku says they tried to watch once and were almost killed. Phinks says his ability is activated by rage, and that this one would completely destroy them if they stayed close by. Kalluto is intrigued by the fact that his ability could have different forms and hesitates to follow the others.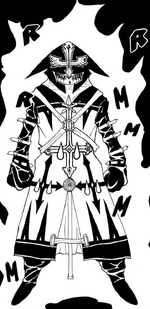 Feitan is then shown in an elaborate outfit covering his whole body, with only his eyes and nose visible. Zazan is confused about the change, but focuses on the fact that his strength has greatly increased. As Feitan says he will pay back the pain and turn it into heat, a large ball taking the form of a sun begins to rise up into the air above Zazan. The Rising Sun variant of his Pain Packer ability slowly burns Zazan to a crisp as Feitan mocks her and laughs maniacally. The ability ends, and Feitan tells her that she could have had a quicker death if she had hurt him more.
The Troupe members begin to make their way out of Zazan's palace, walking past the numerous Chimera Ants she created. Phinks believes they're no longer under her control, and one of the Ants approaches and begs them to kill him. The other Ants do the same, and Phinks gleefully refuses, yelling that they are still natives of Meteor City and ordering them to show that they still have some fight left. After the Spiders ready their weapons, Phinks and one of the Ants rush toward one another.
Back in Meteor City, Phinks is upset that the elders are now arguing whether they should go after the real Ant Queen. He plans to stay put and kill any more Ants that come near, saying that killing the "survivors" left him with a bad feeling. Shalnark's phone suddenly rings, with Phinks desperate to know if it's Chrollo, but Shalnark says it's Nobunaga and that he wants them to help him with something. Phinks gets even more upset at having to wait and Shalnark and Feitan give him a hard time about acting like a girl with a crush, which causes Phinks to throw pieces of rubble at the two as they run away from him. In East Gorteau, Meruem sits in the throne room of the palace, with nine days left until the selection.
Characters in Order of Appearance
Community content is available under
CC-BY-SA
unless otherwise noted.