9: Part 4 (9-(4), Kyū (4)) is the 233rd chapter of the Hunter × Hunter manga, written and illustrated by Yoshihiro Togashi.
Synopsis
Both Bat and Hollow are confident that they can win with their combination attack. Gon is caught in a dilemma, wanting to cover his ears to avoid Bat's attack, but need to hear in order to react. He thinks to use Gyo, and Hollow realizes that he's using aura to enhance his sight. Bat launches another Secret Noise attack, causing Gon to cover his ears in pain and allowing Hollow to land another strike. Hollow throws a second punch, but hits a tree as Gon quickly dodges out of the way. Gon knows he has to do something about the noise, cleverly ripping off two small pieces of his jacket, wetting them with saliva, and plugging up his ears as Hollow lands another punch.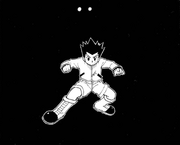 Bat takes note of Gon's cleverness, still launching another sonic attack, but Gon is able to bear through the pain this time, simultaneously tracking Hollow's aura in the darkness. The aura trail draws closer, but it's actually one of Hollow's feathers, with the Chimera Ant suddenly appearing behind him. Gon does his best to block the flurry of blows and realizes that the two are making use of Zetsu, which would come naturally to them since they were once wild animals.
Gon starts to get worn down by their attacks and worries about keeping up his use of Gyo. The hidden figure notes that Gon possesses more latent aura than the two Ants and that he's unhurt even after all their attacks. However, he says that potential doesn't mean much without tactics. Gon knows he has to break up their teamwork, suddenly charging forward toward Hollow. Bat sends out another of her attacks, and Gon is confident he can easily defeat Hollow with Rock, but worries that Bat would get away and bring backup. Hollow is able to see and keep track of Gon as long as stars are in the night sky, closing his ears and allowing Bat to use her attacks as much as she wants. He unleashes a flurry of punches at Gon, who blocks the brunt of the attack with a shield of aura around himself. The hidden figure takes note of this, saying the fight could last forever and thinking Gon may not be a good choice.
Understanding that he has to undermine their teamwork, Gon picks up one of the fallen trees and swings it at Hollow. And since Hollow is directly in front of him, Gon knows that Bat will be right behind him, swinging the tree in her direction. The gust of wind drives her into a rock face behind her, knocking her unconscious and leaving Hollow stunned at Gon's plan. Gon is confident he can take out Hollow by himself, and the hidden figure is only slightly impressed, saying that it makes him just above average.
Hollow quickly turns and flees, with not enough time to switch back to his owl mode. All of a sudden, Gon begins readying Rock as he sprints right up behind a terrified Hollow, punching him hard with the attack and sending him flying back to NGL. The hidden figure is very impressed, and after seeing Gon's signature move, thinks he may be of use after all, but isn't sure how.
Elsewhere, Killua is seen helping villages and towns, dealing with the attackers himself. He urgently tells the residents that Jol-ik is no longer in power and that they need to warn the other villages before the brainwashed soldiers kill their friends and family. Pitou senses this and curiously wonders who is hindering their plans.
Characters in Order of Appearance
Community content is available under
CC-BY-SA
unless otherwise noted.