8: Part 1 (8-(1), Hachi (1)) is the 235th chapter of the Hunter × Hunter manga, written and illustrated by Yoshihiro Togashi.
Synopsis
Knuckle tells Shoot that Cheetu is close and will pass by them in ten minutes. He's sure that Cheetu will sense him right before he passes by, and says that interest will start accruing once Cheetu gets within 100 meters of him, confident that they can get him before the next announcement. It's explained that an announcement of interest happens every ten seconds and if the target gets more than 100 meters away and then moves back within that radius, the ten-second countdown will restart from where it left off. Knuckle guesses how fast Cheetu is running and believes that as long as there are more than three seconds left, they can take him out before he notices.
With the two of them ready for the ambush, Knuckle says Cheetu is close, but then says he suddenly changed course to the forest below them. Knuckle attempts to run after him, but Shoot quickly stops him, saying he can't catch something that has the speed of a cheetah. Knuckle was confident in his use of Zetsu and wonders how Cheetu sensed them. He tests the direction of the wind, confident that Cheetu couldn't have used that to sniff them out since they're downwind.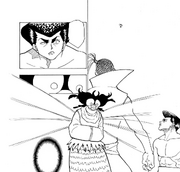 Shoot notices something high above and the two of them spot Flutter eyeing them. Flutter communicates with Leol telepathically, asking him what he should do. Leol says to ignore them since the two aren't their target. Flutter informs him of Cheetu passing through, and that he warned him before he ran into their ambush. Leol asks where he went, and Flutter says he headed for the capital and gave Leol his thanks. Pitou calls Leol and says that the target is fighting with soldiers in Luonton City, and tells him to prepare an ambush to the north. Youpi asks about the situation, and Pitou only hopes to stall the target, especially since he's been active for 30 hours straight.
Having taken out numerous soldiers, Killua is seen running through apartment blocks and telling the residents to flee before they're killed. One of them yells out the window that he's a lying rebel, and Killua understands that since the manipulated Jol-ik appeared on television, the citizens won't believe him anymore. He decides to switch from causing riots to just taking out any soldiers and puppets he encounters, checking his phone's GPS and heading north.
Gon is seen running through a forest, sensing that he's still being followed. A map of East Gorteau is shown with the locations of the various Hunters and Chimera Ants. Gon suddenly stops and yells for the person following him to show themselves. There's no movement or sound, and Gon thinks they may be waiting for help, but is confident that he has the better endurance as he sprints off further into the forest.
Cheetu meets up with Leol and says that the warning from Flutter saved him. Leol asks about A.P.R., and Cheetu says it's from one of the Hunters and won't go away. Leol offers to remove it, surprising Cheetu, but he knows the deal will cost him something. As Leol tells him about the job from the Royal Guards and asks for his help, Flutter contacts him and says he's located the target heading north. Leol tells Flutter to keep track of him and to get the others to confront him.
Cheetu isn't sure about hunting a Hunter since they can be tough. Leol says that they'll remove A.P.R. from him and then he can get a new ability at the palace from Pouf, who will prepare and teach it personally. He tells him his own ability took three days to learn, but that he could learn his ability in a single day. Cheetu is happy with the deal since the only thing needed from him is giving allegiance to the King. Leol tells him to make contact again once he learns his new ability, and then his men will know the target's ability by that point. Cheetu says he's in his debt, envious of his position in the hierarchy as the two amicably part ways.
Killua tries to escape Flutter's notice, but can't lose him. He knows his yo-yos can't reach him, so he flees into a nearby jungle and is confident that the deep foliage will force Flutter to come down low, where he can then make use of his yo-yos. He hides beneath a tree, using leaves as cover, and impatiently wonders why Flutter isn't coming after him. Flutter, however, is able to spot him, confidently saying that he can see him wherever he hides. Numerous pairs of eyes are seen in the dark jungle, and Flutter commands the Leol army to capture the target.
Characters in Order of Appearance
Community content is available under
CC-BY-SA
unless otherwise noted.