Wiki Targeted (Entertainment)
Play Sound
8: Part 2 (8-(2), Hachi (2)) is the 236th chapter of the Hunter × Hunter manga, written and illustrated by Yoshihiro Togashi.
Synopsis
Still in hiding, Killua hears a rumbling noise and wonders why Flutter is coming from the other direction and not from above. However, he suddenly sees a Carabid Beetle riding a giant ball of dung straight toward him. He levels the tree, but Killua quickly dodges out of the way, spotting another Chimera Ant hiding behind it. He dodges his attack as well, twisting off his head and breaking both his arms instantly. The Carabid Beetle is left stunned and loses sight of him, knowing he stands no chance against him alone.
Someone draws his attention to above him, where Killua is seen tactically fighting at least five Ants at once up in the trees, using their own weapons against them. He easily kills four of them, and as he's about to kill the last one, the Carabid Beetle destroys the base of the trees with his dung-ball. Killua identifies him as the leader and chases after him as he flees. But right before Killua lands a strike, the Carabid Beetle unleashes an enormous explosion from his rear, and the defense mechanism of a bombardier beetle is explained in detail.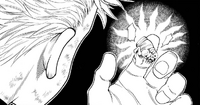 Killua stands smoking in a defensive position, unable to believe that the beetle used a perfect counterattack even though he was in the Ant's blind spot. Killua quickly realizes that Flutter is providing him with reconnaissance. He tries to figure out how Flutter's ability works and knows he can't show his own abilities if he's being constantly watched. As he resolves to kill them with his bare hands and runs after the Carabid Beetle, he's struck in the head by a projectile and sent flying back. As he pulls out and examines what looks like a flea in the shape of a bullet, he's struck again in the neck and frantically wonders where the shooter is. Flutter offers a set of detailed coordinates from a grid pattern to a man aiming a large rifle and sitting far away on a high cliff. He confidently sings that Killua can't escape his Fleadom.
Characters in Order of Appearance