Wiki Targeted (Entertainment)
Play Sound
8: Part 7 (8-(7), Hachi (7)) is the 241st chapter of the Hunter × Hunter manga, written and illustrated by Yoshihiro Togashi.
Synopsis
With their severed heads lying close together on the ground, the Ortho Siblings bicker back and forth as the two shout endless insults at each other. Killua makes a remark about them living longer than cockroaches as he slowly goes to stand up, remembering that he has to stop the rest of Pitou's puppets before they kill any more citizens. But he immediately falls back to the ground, unable to move his body as his legs give way. He looks at the two siblings as they continue to fight, in disbelief that he can't move his body. 
Trying to rise up again, he falls flat on his face and looks down at the blood around himself, wondering if it's all actually his. He describes it feeling like a warm bath, but quickly remembers the mission as he tries to inch his way forward, his vision beginning to blur and his body starting to shake. Still unable to move, he says that he had thought of a great way to use his Nen, but now asks himself if he's going to die here.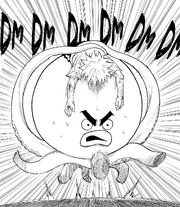 As he apologizes to Gon for not being useful, a tentacle suddenly wraps itself around his left arm, and Ikalgo appears before him with a stern look on his face. The Ortho brother yells at him for help, telling him to get rid of Killua later, and the siblings fight to get his attention. Killua uses the word octopus, and Ikalgo again yells at him not to call him that, all of a sudden putting him on top of his enlarged head and holding him in place with his tentacles. Killua wonders what he's doing, and Ikalgo says that even though it's not cool, he's betraying his comrades to save him. He tells Killua not to talk and says that he knows a doctor who can help.
With Ikalgo begging him to hang on, a tearful Killua still wonders why he didn't just walk away since saving a human will make him a fugitive from the Chimera Ants. Ikalgo recognizes that what he's doing is stupid, saying he doesn't even know why he's doing it, but realizes that after Killua called him cool and thought they could have been friends, he can't just do nothing and watch him die. He jumps into the underground current and promises to save Killua, begging him not to die as the two speed away through a tunnel.
Elsewhere, Gon reaches a vast desert and yells at the person following him to show themselves since they can't hide anymore. As he starts to run again, someone says that Gon wouldn't survive a day without water in this desert since it has no oases or cacti. Gon is left speechless as he sees footprints appearing in the sand. The invisible figure says he wanted to observe longer, but the chameleon Chimera Ant slowly reveals himself, first saying that his name is Jail, but then saying it's Meleoron.
He tells Gon that he was a Squadron Leader when the Queen was alive and asks for his name. Gon stays on the defensive and immediately asks why he was following him. Meleoron says he was making sure not to lose track of him and had to make sure he didn't die since a partner is important to him. Meleoron assumes that he's here for the King, and Gon quickly answers no, though says to himself that he has to be careful not to reveal anything. Meleoron is confused since he thought the two of them were there to take down the King. Gon picks up on Meleoron referencing more people than just himself, and Meleoron confesses that he had been watching both him and Killua at first.
Gon's aura suddenly swells around him, and he angrily asks Meleoron if he came after him because he thought he would be an easier target compared to Killua. Panicking, Meleoron quickly apologizes and says it makes sense that Gon would be confused since he looks like the enemy. He swears that he's not lying and that he doesn't intend to trick or fight Gon, who immediately believes him. Meleoron doesn't hear him at first, understanding how difficult it would be to trust him and asking him to listen to what he has to say, but completely surprised, finally realizes that Gon already said he believed him.
Characters in Order of Appearance