6: Part 2 (6-②, Roku (2)) is the 245th chapter of the Hunter × Hunter manga, written and illustrated by Yoshihiro Togashi.
Synopsis
Morel again notes that A.P.R. is no longer attached to Cheetu, worrying that the Chimera Ants have an Exorcist among them or that Cheetu himself is the Exorcist. Cheetu confidently tells Morel that he will beat him and then Knuckle afterward. Calmly readying his pipe, Morel realizes that Cheetu must have gained a new ability, and he again worries that it could involve exorcism. He thinks to himself that since Knuckle and Shoot use their abilities in combination, relying on the strategy of sealing the enemy's Nen will be pointless if the Ants have an Exorcist in their ranks. He says that he hoped the strategy would be effective against the King himself, realizing that if Cheetu is the Exorcist, he just needs to take him out here so they can still make use of Knuckle and Shoot's strategy.
Blowing smoke all around, Morel resolves to defeat Cheetu, but makes sure to not deactivate Deep Purple just yet and to utilize only his remaining aura. But before he can even react, Cheetu suddenly appears right in front of him and lands multiple strikes, quickly moving back as Morel recovers and wonders why he's still using his same strategy. A smiling Cheetu declares a game of tag and says that Morel is it. Morel isn't sure what he means, but suddenly finds himself standing in a vast savanna. Dismayed, he guesses they were teleported and that Cheetu most likely isn't the Exorcist. Standing opposite him beside a giant hourglass, Cheetu recognizes his confusion and says their game of tag is about to start. After explaining that the only way to escape his created field is to tag him back, he turns the hourglass and says that Morel has an eight-hour time limit.
Cheetu readies himself, but Morel calmly walks away and says he plans to take his time. He touches the backdrop of sky and clouds, understanding that it's a separate Nen space about the size of a baseball field. Weighing his options, he knows he could fill the whole area with smoke if he deactivated Deep Purple, but worries if he would be able to deactivate the ability and if the aura would even be able to reach him within the Nen space. He considers the worst-case scenario of the aura not being able to reach him and decides he can't deactivate his ability yet.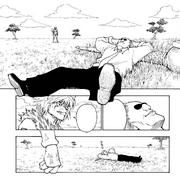 Cheetu continues to egg on Morel to chase him, but Morel calmly walks toward the giant hourglass and strikes it hard with his pipe. It suffers no damage, and Cheetu explains that the hourglass and walls can't be destroyed, reiterating that the only way to get out is to catch him. Morel playfully says he has the time to experiment, guessing that Cheetu's ability was influenced by Knuckle's Hakoware and asking him what will happen if he doesn't catch him within the eight hours. Cheetu refuses to answer, leaving Morel sure it will be something bad, but he calmly drops to the ground and rests his head and arms on his pipe. He tells Cheetu to wake him up in five hours, which leaves Cheetu angered as Morel thinks to himself that Cheetu doesn't understand his own ability at all, saying it's not a test of speed, but a game of wills.
Back in Peijin, Knov is sure that Morel vanished, but since his Deep Purple hasn't been deactivated, he says the plan is still on. Leol notes that Cheetu won't be back for at least eight hours, though he isn't aware of what his ability does. Flutter contacts him and says that in addition to the white uniform people, he's spotted a man with a black suit and glasses. Leol worries that the enemy's real leader could be hiding among the foot soldiers, saying he doesn't want anyone to see his ability.
Since Hina has to rest after exorcising Cheetu, Leol calls Pitou and asks for two more soldiers to help him isolate the man in the black suit. Pitou agrees, but says that he better complete the job before the King himself comes out after finishing his games (though the Royal Guards really want him to stay within the palace until after the sorting). Welfin and Bloster answer the summons, and Pitou tells them to go help Leol.
Pitou asks Pouf how the King's game is going, but Pouf says the King is struggling to make any progress against the girl. The King analyzes her sequences as the two exchange moves, and he realizes that a piece that had been pointless since the beginning of the game has suddenly taken control of the board. He resigns and wonders to himself if she was calculating and predicting all of his moves from the start, but says that has to be impossible. He announces another match, and the girl happily obliges. Pitou and Pouf look on as a storm approaches above the palace.
Characters in Order of Appearance
Community content is available under
CC-BY-SA
unless otherwise noted.