6: Part 3 (6-(3), Roku (3)) is the 246th chapter of the Hunter × Hunter manga, written and illustrated by Yoshihiro Togashi.
Synopsis
On the palace grounds, Welfin and Bloster walk below trees covered with 5,000 cocoons, only one-fifth of the quota that was planned. Bloster says that the King must be upset by the low number, but Welfin says he's so busy playing games, especially Gungi, that he's started skipping meals. Bloster worries about all the food going to waste and asks if they should steal some, but Welfin quickly reminds him of what the King and Royal Guards would do to them. Bloster replies that sometimes a person can only understand what true power is after they have gotten a taste, agreeing that those four are on a completely different level. Welfin guesses that Pouf gave them abilities because he knew what would happen. Lastly, he says that Hagya is the only one still clueless, mocking the fact that he hates people calling him by his old name.
Back in Peijin, Knov carefully moves through the city by using various portals. Flutter spots him with his "Satellite Dragonflies" and tells Leol that he's heading toward the palace, saying that the puppets have no chance against him. Leol tells Flutter to let him know if he shows his ability, thinking to himself that he plans to have Welfin and Bloster chase the foot soldiers away, which will give him the chance to see their abilities as well.
Knov spots two of Pitou's puppets in the air and dodges their shots by using another one of his portals. It's explained that Knov's ability, Hide and Seek, creates a portal to a Nen dimension when he holds his hand over a wall or the ground, allowing him to send people or objects into the space. Described as a Nen mansion, the area has four floors and 21 rooms (with one used for storage). Each room is separate from the others, and since the entrance closes upon entering, one has to use a different door to return to the real world. The first floor, where Netero took out numerous Chimera Ants, is the biggest and 32 entrances that can be created there. Further explanation is given about the system of rooms and entrances, with the general rule being that someone can only enter and leave a room from the same portal.
Knov, however, possesses a master key and is able to connect the door to any portal anywhere. He slowly pokes his head out from the side of a tall tower outside Peijin, cautiously exiting as he looks toward the city. It's explained that Morel's Deep Purple is being used only for defensive purposes, with the soldiers keeping their distance when coming across a non-ally and avoiding any attacks while they send back a counterattack of their own. One of the soldiers is seen hurling a piece of pipe toward a puppet, and it's explained that they have been programmed to use this strategy so that the enemy doesn't realize that the soldiers are simply Nen constructs.
Flutter loses sight of Knov and informs Leol that he may be able to teleport. Knov spots Flutter and wonders if he's being used as a scout, suddenly remembering the dragonflies that were flying through the city and guessing that they were being used for reconnaissance. He leaps down and runs through the forest back toward Peijin, intent on taking down the Ant.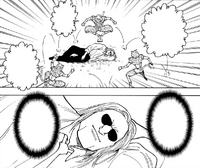 Cheetu continues to annoy Morel as he tries to sleep, crouching right beside him and egging him on. Morel suddenly grabs his pipe and swings it toward Cheetu, who easily dodges and perks up at Morel trying to attack him. He says that he knew Morel was trying to set a trap and that he won't fall for it. Morel angrily replies that he can't fall asleep if Cheetu keeps annoying him, and Cheetu confidently answers that he will keep bugging Morel until he starts chasing him. Thinking to himself, Morel mocks Cheetu's ability and says he should have made the rules so that his target was forced to chase him. He lies back down and turns away from Cheetu, saying that he's not getting up for the next five hours. As Cheetu tries his best to be annoying, Morel knows that he can easily win the waiting game once Cheetu finally gets tired and moves away from him. Morel gives a slight grin, and a small bit of smoke is shown leaving his mouth.
Rain begins to fall on the palace as the King and the blind girl continue playing Gungi. The two exchange several moves, and the girl sees that his king is isolated. The King says that he calls it "detached castling", trying his best to predict what moves the girl will make so he can set his trap. He is confident that he will finally disrupt her rhythm, and the girl plays the very move he predicted she would make next.
Characters in Order of Appearance
Community content is available under
CC-BY-SA
unless otherwise noted.