Wiki Targeted (Entertainment)
Play Sound
6: Part 4 (6-(4), Roku (4)) is the 247th chapter of the Hunter × Hunter manga, written and illustrated by Yoshihiro Togashi.
Synopsis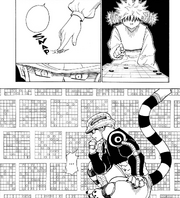 The King and the blind girl continue their Gungi match. The two exchange moves and the King analyzes the game in his head, confidently playing a move that he thinks will catch her off guard. The girl pauses, taking her time before playing her next move, and Pouf notes that it's the first time she has broken her tempo. The King remains confident in his strategy and thinks he could draw out the game as long as he wants, hoping to see a visible reaction from the girl. But she calmly plays one move, and various board positions flash through the King's head, leaving him stunned as he immediately resigns. He quickly confronts her about knowing that his "detached castling" strategy was one that wouldn't work after being analyzed (a so-called refuted variation), and the girl confirms this. He then asks her why she paused if she knew, angrily saying that she should have made her next move with no hesitation.
Pouf recognizes that the King has moved the situation off the board and that if the girl answers incorrectly, it may be her last move. She reveals to the King that she actually came up with the move around ten years ago, has called it "Kokoriko." She explains further about the influence she had on the Gungi metagame and says she was happy that an idiot like her could come up with something so clever. However, when an opponent of hers used "Kokoriko" against her in a tournament, she came up with a countermove that ultimately killed her creation. She tells the King how honored she is that he came up with the same strategy as she did, describing it as if her dead baby had come back to life and admitted that she hesitated because she wasn't sure at first if she could take its life again. The King seems upset and says that he has lost interest, telling the girl to take a break since the next time they start, there won't be anymore. She acknowledges his order and bows as he leaves. With a downcast look, Pouf realizes that the King has never listened to anyone for that long before, but he quickly pays it no mind.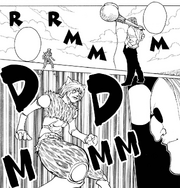 Still lying down, Morel notes that about half the sand has fallen from the hourglass, which means four hours have passed. Cheetu is seen resting up against a tree as he reads a book and laughs hysterically at its contents. Morel had predicted that he would get bored eventually, standing up with his pipe across his shoulders. As Cheetu gets excited that Morel is finally ready to start, he spots a thread wrapped around the end of Morel's pipe, and Morel says the contest is already over, telling Cheetu to look at his ankle. The Chimera Ant is stunned to see a rope made of smoke around his left ankle, and Morel explains that he sent it the long away around so he wouldn't notice.
Morel begins to confidently reel him in, with Cheetu quickly sprinting away out of fear. But Morel easily stops him in his tracks, explaining that the smoke is like an unbreakable chain. Cheetu begins striking it with a flurry of punches, but the rope remains completely intact. Morel analyzes Cheetu's ability with himself and points out the flaws with the game of the tag and the long time limit, describing Cheetu as his own worst enemy since he didn't have the attention span to wait it out. But as Morel closes in, Cheetu's aura suddenly swells around him as an object begins to manifest on his right hand. It's explained that this was made possible because Cheetu's ability was still unfinished and because he felt so cornered.
Characters in Order of Appearance