Wiki Targeted (Entertainment)
Play Sound
6: Part 5 (6-(5), Roku (5)) is the 248th chapter of the Hunter × Hunter manga, written and illustrated by Yoshihiro Togashi.
Synopsis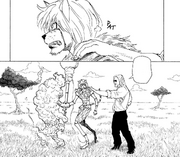 Cheetu attempts to shoot Morel with his newly made Nen ability—a conjured crossbow and claws, but Morel easily blocks the arrow. Morel then berates Cheetu for creating a weapon that's so much slower than he (Cheetu) is and goads him into attacking with the claws on the weapon. Cheetu then complies and attacks him, only for Morel to be revealed as a smoke clone and the real Morel tags him, dispelling Cheetu's Nen. When both return from the artificial Nen space, Morel asks Cheetu if he wants to continue, but the Chimera Ant goes away saying that he will just get another Nen ability from Shaiapouf.
Knov calls Morel and asks him to go to area B; they meet and enter Knov's dimension. Inside the room, while Knov reports the latest news, Flutter lies unconscious on the floor. Bloster, Welfin, and Leol try to contact Flutter telepathically, but they fail. Then Leol uses his Rental Pod and, as Flutter's name appears on the display of the device, Leol concludes that the Ant is either knocked out or too far away to respond.
Without revealing the nature of his ability to Bloster and Welfin, Leol activates the Rental Pod's function to temporarily borrow Flutter's Nen abilities and try to carry out the mission. Leol thinks that he can not waste any time, at least not until he makes the King owe him a favor, which is the condition for him to use the King's abilities. He conjures Flutter's dragonflies and starts his search.
Sitting on his throne in the royal palace, Meruem meditates about his recent Gungi matches against Komugi. Going back to the games room, the King is faced with his sleeping adversary still sitting in the same place and he asks Shaiapouf if his opponent has not rested. The image of the drooling girl causes the King to despise her and, at the same time, wonder how she can make such beautiful plays. He wakes her up and proposes a bet for the game that is about to start.
Characters in Order of Appearance