6: Part 6 (6-(6), Roku (6)) is the 249th chapter of the Hunter × Hunter manga, written and illustrated by Yoshihiro Togashi.
Synopsis
The blind girl isn't sure what the King means by a bet, and he clarifies that he will give her anything she wants if she wins the match. She ponders the offer, but before she can answer, he tells her that he will take her left arm if she loses. Rain continues to fall outside the palace, and the King is confident that feelings of greed and fear always disrupt human rhythm. The girl agonizes over her decision, but calmly says that she would prefer to offer her life instead if she loses. The King is confused, and the girl clarifies that because the world of Gungi is so ruthless, only world champions receive any sort of substantial payment. And since she is the main source of income for her family of 12, she says that if she loses even one time, she would become a burden for them since she can't do anything well except Gungi. She reiterates this point by saying that a Gungi champion becomes a mortal once he loses, explaining that she would be worthless if she lost.
The King remains silent, and the girl quickly clarifies that that's what her parents always told her. She tells him that on the day she became a pro player, she decided that she would give up her life if she ever lost. However, she says that her life would be worthless after she loses and worries that it would be bad manners to offer him something like that. The King says it's fine and asks her what she wants if she wins. The girl has trouble getting her mind off of Gungi and says that she will think of something after she wins.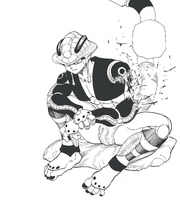 As the King realizes that she has neither fear nor greed, he slightly laughs and says that he wasn't taking things seriously enough, having never thought that she might have his life be her reward. Pouf tries to interject, but the King immediately silences him. Panicking, the girl says that she would never consider it, and the King assures her that he understands. He calls off the bet and, with a smile on his face, apologizes for his imprudence by ripping off his own left arm. Blood hits the girl in the face, leaving her confused, and Pouf cannot believe the King's action, quickly tearing a piece off his shirt to staunch the bleeding. He pleads that he needs to tend to the wound, but the King firmly says that he will keep playing. He tells the confused girl that it's her turn, but she is left confused about the situation, asking if he broke his own arm.
Pouf is adamant about helping him, but the King suddenly uses his tail to strike the Royal Guard into the wall behind him. He reminds him that he said there wouldn't be any more breaks, asking him if he's trying to add to his humiliation. Pouf recovers from the strike and begs the King to let him summon Pitou, saying that he could still play while they perform the operation. He says that if the King refuses even that, he should behead him right there. The King happily obliges and tells Pouf to come closer, again reminding the girl that it's her move. But she resolutely refuses to play until his arm is fixed. The King brings the needle on his tail right up to the girl's neck, ordering her to play, but she again refuses and tells him to kill her in Gungi as she begins to tear up. The King becomes irate, but realizes he has been beaten, angrily ordering Pouf to summon Pitou.
In Peijin, Morel and Knov stand atop the city and realize that all of Pitou's puppets are gone. Morel wonders if they went back to sorting, but Knov thinks it's unlikely since the two of them have the city surrounded and the Royal Guards wouldn't remove their defenses if the King's safety is of the utmost importance. He guesses that something serious happened, maybe to the King, and Morel understands that it may be their one chance to break into the palace. The two go back and forth about whether they're falling into a trap, but Knov says that they need to get as close as they can so he can make an exit near the palace—a necessary risk if the mission is to succeed. Still using Flutter's dragonflies, Leol spots the two chatting and guesses that Cheetu failed. As the Hunters go their separate ways and hope the other stays safe, a confident Leol tells Welfin and Bloster that their target is the guy with the pipe.
Characters in Order of Appearance
Community content is available under
CC-BY-SA
unless otherwise noted.