5: Part 1 to 2: Part 1 (5-①~2-①, Go-1~Ni-1)[note 1] is the 255th chapter of the Hunter × Hunter manga, written and illustrated by Yoshihiro Togashi.
Synopsis
Killua suddenly wakes up in a clinic with Ikalgo sitting beside his bed and asking him how he feels. With his head and arms bandaged, a panicked Killua addresses him as octopus and asks how long he was out. Ikalgo sternly reminds him not to call him that, telling him that he slept for two days and explaining that the clinic is kept secret and used by activists and Mafia members. Killua wobbles out of bed, but Ikalgo worries about his wounds reopening. Killua is determined to follow through with the mission, and as Ikalgo tells him to rest more, a nurse enters the room and explains that if he dies here, all his body parts will be sold off. Killua says that he gets to be discharged since he's fine, but the nurse reveals that the total costs of all his procedures adds up to 1.8 million jenny and that one of his body parts will be taken if he's unable to pay. Killua assures her that he will wire the money later, but the nurse doesn't budge, forcing him to stay until the bill is paid. Killua adamantly asks for a phone, and the nurse goes over the exorbitant prices for a phone call, leaving Killua even more annoyed.
Killua uses the phone to call Gon, who immediately asks where he is and if he's okay. Killua tells him that he's recovering in a hospital and that he will be back soon. Gon is happy to hear it and tells Killua that they made a new friend who is getting along well with Knuckle, as the two are shown laughing together. He reveals to Killua that they may have a plan to defeat the King, hoping to talk it over once he gets back. Killua asks him to wire money to an account and says that he can be there within the day.
Ikalgo isn't sure about the state of Killua's body, but once Killua disrobes, Ikalgo is stunned to see that almost all his wounds have already healed. Killua stretches out his arms and says that he's ready to go, with the nurse coming by to confirm that she received his payment. Killua runs off, with Ikalgo unsure what to do, and he tells the Chimera Ant that he will introduce him to his friends. Ikalgo still seems unsure as he struggles to reply, and Killua turns away, indifferently saying that he doesn't have to come along, but thanking him for his help. As Ikalgo asks if it's okay to go, Killua asks him what his problem is and wonders if he was the only one who thought the two were already friends.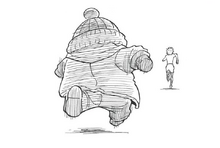 Ikalgo is visibly shaken by Killua's comment, again asking if it's okay for him to come along. Killua becomes irritated, but Ikalgo assures him he will go. Killua tells him that if something serious happens again, he won't thank him for it and says that Ikalgo shouldn't thank him either if his life ends up being saved. He says the reason for this is because it's obvious that friends will save each other, so it's nothing special and goes without saying. Ever so slowly, Ikalgo's eyes begin to tear up and he says that this is the world he had always wanted to live in, but he never thought that someone like him could achieve it. He begins to sob and tells Killua that he could die happy now. Killua is taken aback by the waterworks, but quickly becomes serious, warning Ikalgo that the human world is much harsher than that of the Ants. He confidently says that risking one's life and throwing it away are two very different things, asking Ikalgo if he still wants to come along. Ikalgo gives no hesitation to leave his old life behind now that he has gotten a taste of paradise, running after Killua and confident that he has finally found a place where he can belong.
Gon tells Knuckle and Meleoron that he still can't contact Palm. He guesses that she's still inside the palace, worrying that she may have been detected by Pitou's En. Shoot says that she could be in the underground hangar, which is outside of Pitou's range, but says she couldn't get out from there since the exit is up in the palace. Gon calls Morel and asks about Knov, who is shown sitting with his hands in his arms and still shaken by the earlier encounter. Morel says that he won't be able to continue the mission, but that he did his job in setting the exits, so the plan will still commence in three days. Thousands of East Gorteau citizens are shown making their way toward the palace.
The King and the blind girl are still playing Gungi as Pouf sits nearby reading a book. She wins once again, but seems fatigued now, and Pouf realizes she has reached her limit, confident that the King can win in the next couple of games. A stern look comes over the King's face, and he suddenly rises and tells the girl that they will start again in 12 hours. She begins to protest, but he calmly says that he wouldn't enjoy a victory over her when she's weak, telling her to rest up. Pouf is stunned that the King went back on his word of not taking any more breaks, realizing that the girl is a bigger liability than he thought.
Characters in Order of Appearance
Notes
↑ Originally, in its publication in the Weekly Shōnen Jump magazine, the chapter was titled "6-⑫" (Roku-12)—translatable as "6: Part 12". It was later changed to the current title, as seen in its tankōbon volume version.
Community content is available under
CC-BY-SA
unless otherwise noted.