Wiki Targeted (Entertainment)
Play Sound
1: Part 1 (1-(1), Ichi (1)) is the 257th chapter of the Hunter × Hunter manga, written and illustrated by Yoshihiro Togashi.
Synopsis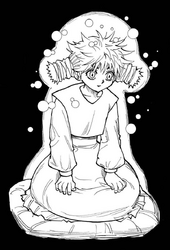 The night sky hangs over the palace as the King and the blind girl continue their Gungi match. The King notes the girl's offensive strategy and thinks that her perception is increasing. However, he says that he's actually enjoying things and that her control of the board is proof that she is still much more skilled, wondering how much stronger she can become. The girl suddenly says that she feels weird, with small bubbles coming from her hand as she places a Gungi piece. The King realizes that it's Nen, and as aura surrounds her body, the girl says incredible moves keep flowing into her mind, confident that she can play even better. The King realizes this and resigns the match soon after.
The girl asks if she can take a short break, and the King asks her if anything is wrong, noting that it's the first time she's asked for one. She says that she would just like to record all the moves that are coming to her, and the King wonders how she'll be able to with her blindness. She tells him that she just has to lay out the pieces and then she never forgets a sequence once she has physically moved them. The King wonders if that's the case for all the moves she's ever played, but realizes it's a stupid question, allowing her to take a break. But he quickly gets her attention and asks for her name, with the girl saying that it's Komugi. In return, the girl politely asks what the King's name, but he suddenly realizes that he doesn't know what his name actually is.
The King summons his Royal Guards, and all three kneel before him. He first addresses Pouf and says that he is Pouf, leaving the three of them confused. He then asks them what his name is, and Pouf is the first to reply, saying that he is the one and only King and assuring him that they will get rid of all imposters using the title. The King, however, quickly corrects him by saying that "King" is indeed a title, not a name. He moves on to Youpi, who admits that he is not knowledgeable enough to give an answer. Pitou answers that his feelings are most important, saying that he should choose a name he thinks fits him the best. The King seems to shrug it off, but Pouf assures him that he will have time to choose a name after the sorting, which they must ensure runs smoothly the next day. The King remains silent, and Pouf tries to comfort him, saying that he should tell the three of them if anything is bothering him. The King finally says that Komugi's body was covered in light. Pouf isn't sure who he's talking about, and the King says it's the blind girl.
Internally, Pouf is stunned that he would learn her name, and the King goes on to say that she awakened to Nen, which will make her even better at playing Gungi. He asks Pitou if the girl would have survived if she had been put through the sorting process, and Pitou says that she would have died since it only keeps those with a mind and body strong enough to be a soldier. Pouf realizes where the King is going with this and begs him in his mind to stop. But the King reveals that after competing against Komugi, he learned that strength can manifest in different ways. Pouf continues his internal protest as the King brings up the fact that he killed a child before reaching the palace, saying that there's the possibility that she could have surpassed him in some field one day. Pouf kneels in agony, thinking that it's not appropriate for a king to waver and repent like he is. The King says he robbed the girl of that potential, but before he continues, a menacing smile suddenly comes over his face and the Royal Guards look on in apprehension.
Characters in Order of Appearance