Charge: Part 3 (突入 (3), Totsunyū (3)) is the 263rd chapter of the Hunter × Hunter manga, written and illustrated by Yoshihiro Togashi.
Synopsis
Maintaining their En and monitoring the crowd, Pitou sits alone at the main gate and senses something high up in the sky, simply because they had a vague feeling to look up. They jump to a higher vantage point to better assess the threat, then readying for battle and moving their En upwards in response to the power of the descending aura. Youpi feels Pitou's En disappear from within the palace, and flying nearby, Pouf realizes something must be coming from above.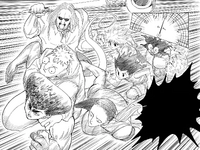 While the Extermination Team is gathered near the door, and Morel counts down the remaining ten seconds, Killua is the only one to notice the serious change in Gon as an icy shadow falls over his eyes.
In the meantime, an enormous dragon descends from the heavens, and both Pitou and Pouf notice it, but should have paid more attention to the two men riding on it: Zeno Zoldyck and Netero. As the dragon comes into contact with Pitou's En, Pitou and Zeno immediately understand the other's capability. Pitou then turns off their En to utilize all their aura for battle, but suddenly the dragon breaks apart into dozens of smaller dragons that rain down upon the palace, leaving Pitou in shock. And at that moment, Morel gives the command to charge as the clock strikes midnight.
Characters in Order of Appearance
Community content is available under
CC-BY-SA
unless otherwise noted.