Charge: Part 4 (突入 (4), Totsunyū (4)) is the 264th chapter of the Hunter × Hunter manga, written and illustrated by Yoshihiro Togashi.
Synopsis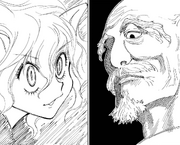 As Zeno's Dragon Dive rains down, Pouf immediately flies toward the throne room in defiance of the King's orders. Pitou's decision to turn off their En had backfired, and they fearfully look for the two men in Zetsu among the dragons. But Pitou quickly focuses, detecting Netero in the sky, and leaps up toward him. Pitou activates Terpsichora, which takes 0.1 second from activation to attack, but it's stated that Pitou swore that in that tenth of a second, they heard Netero speak, saying that he had anticipated several options and Pitou has made a bad move.
The scene shifts to Zeno talking to someone about time slowing down when one is near death, or when two powerful warriors clash. He's asked about the secret to Netero's power and first says that his Nen is so quiet that no one is able to follow the flow of his aura to determine his next move. He then reveals that Netero was an old man even when he was a baby, being the only person to fight his *grandfather and live. He adds that the two have a yin and yang relationship, but clarifies that Netero has always been stronger than him, telling the other person to watch out for his ability in combat: 100-Type Guanyin Bodhisattva.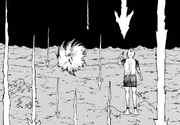 Back to the present, it's stated that Pitou had thought they had seen Netero's movements as fluid, but all of it took place within that timeframe of 0.1 second. Netero readies his hands into a praying motion, and Pitou was only able to witness his movements by infinitely compressing their awareness, by stopping their own sense of time. However, Netero moves his left hand down, and a portal seems to open, unleashing an attack so swift that it's unable to be avoided. In disbelief over how the attack came from where it did, Pitou is sent flying back, with Netero saying he would appreciate it if they just disappeared into the distance. And at that moment, less than one second past midnight, the Extermination Team exits the portal into the palace as Youpi stands on the staircase.
Characters in Order of Appearance
Community content is available under
CC-BY-SA
unless otherwise noted.