Indebted To (貸し, Kashi) is the 270th chapter of the Hunter × Hunter manga, written and illustrated by Yoshihiro Togashi.
Synopsis
Alone in the throne room, Pouf belittles himself and criticizes his inability to protect the King, or to even know his location. He dances around happily, hurling insults at himself and trying to remain convinced that the King would never go help Komugi in her chambers. But he knows it to be true, tears streaming down his face, and continues to disparage himself for not immediately going there instead. As he repeats that he lives for the King, finally realizing he must go to his side, he finds himself surrounded by smoke with Morel standing in front of him. Pouf immediately flies to escape, but the wall of smoke stops him. He asks Morel if there's anything he can do to be let out, but Morel refuses, causing Pouf to activate Spiritual Message.
After killing Inzagi and Maenole, Killua worries over his decision as Ikalgo draws near. When they pass by each other, Ikalgo says Killua owes him one, causing a mix of emotions within Killua and refocusing his attention on the task at hand. Ikalgo reaches the elevator, but as he does so, the doors to two rooms occupied by soldier Ants open almost simultaneously.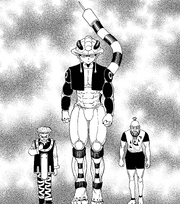 Looking up at the throne room, Gon recognizes Morel's Smoky Jail and realizes the King and Pitou must be elsewhere if he has Pouf trapped inside. He continues searching, and spots the King walking on a roof in the distance, accompanied by Zeno and Netero. The latter spots Gon and points back toward Pitou's location, changing Gon's expression to one of enraged resolve.
Characters in Order of Appearance
Community content is available under
CC-BY-SA
unless otherwise noted.