Error (誤算, Gosan) is the 272nd chapter of the Hunter × Hunter manga, written and illustrated by Yoshihiro Togashi.
Synopsis
A.P.R. adds interest, increasing the total to 649. Knuckle is in disbelief that only ten seconds have passed, feeling as if he's suffocating as he watches Shoot suffer Youpi's barrage of attacks. Unable to hold back, he charges in, but feels Meleoron tap his shoulder, stopping him in his tracks. Meleoron had tapped not to stop Knuckle, but because he couldn't hold his breath any longer. With Knuckle distracted by this, one of Youpi's tentacles swipes him across the face, lowering the lent aura to 322 and offsetting Knuckle's first punch plus interest. Because of God's Accomplice, Youpi hadn't heard A.P.R.'s announcement or felt his strike against Knuckle. Realizing how careless he's being while Shoot is sacrificing his life, Knuckle runs back so Meleoron can catch his breath, frustrated with himself and the situation.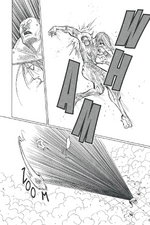 Once Meleoron deactivates God's Accomplice, Youpi notices A.P.R., panicking at first, but realizes it must be connected to what he felt back on the central staircase. He wonders about the conditions to activate it, and what the number on its forehead means. Believing Shoot to be the source, he turns around and curls up, firing hundreds of needles from his back. Shoot thinks he won't be able to escape the attack, but ingeniously uses his two remaining flying hands to propel himself out of the way.
This reaction from Shoot lets Youpi know that he can win the fight at any moment, but the mistake in Youpi's thinking was not realizing that Shoot didn't care if the fight meant losing his life. And at that moment, even though he says he can still fly, Shoot reaches his limit and begins to slowly fall to the floor. But Knuckle releases a deafening scream and reveals himself to Youpi, hoping to draw away his attention to save Shoot's life. Youpi realizes A.P.R. must be his ability, and it's stated that Knuckle's decision was correct, but that there was one mistake in his thinking.
Characters in Order of Appearance
Community content is available under
CC-BY-SA
unless otherwise noted.