Promise (約束, Yakusoku) is the 275th chapter of the Hunter × Hunter manga, written and illustrated by Yoshihiro Togashi.
Synopsis
Gon continues to struggle with what to do, but questions, why he should do what Pitou, wants, slowly moving toward them with his fists clenched. Killua quickly tells him to wait, pointing out that the girl probably got hurt because of Zeno's Dragon Dive, and that Pitou is likely healing her. He wants him to wait until she's completely healed, but Gon wonders why Killua is basing things on chance, especially since Pitou may not even do what they want after they wait. He continues to yell at Killua, asking him how he's able to believe what Pitou says and declaring that they can't trust any of them.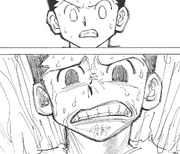 But all of a sudden, Pitou violently breaks their own left arm, leaving the two stunned. Pitou says they can break their right arm as well, and even both their legs. They can also mangle their body if they don't think the promise will be kept after Komugi's healing, as long as it doesn't disrupt their use of Doctor Blythe. Pitou again begs Gon and asks him to let them save her.
In utter shock, Gon slams both his fists into the floor and screams at Pitou about how unfair it is—how they're able to heal this girl even after what they did to Kite. Killua tries to calm him down, but Gon's rage boils over, disturbing both Killua and Pitou. He asks them why he should go along with this, his face filled with anger and tears running down his face, and begins to summon a Jajanken attack. Killua quickly yells his name and tells him that if he kills Pitou, Kite will never be as he was.
Gon reluctantly stops the attack, and says Killua can only stay this calm because he has nothing to do with what's going on. A look of sadness comes over Killua's face, but he tells Gon that he's just trying to keep him together. He reminds him of his goal to restore Kite and yells at him to get ahold of himself. A look of emptiness comes over Gon's face as he says he's fine now, but Killua's returns to one of sadness again. Gon asks Pitou how long they'll have to wait, and they say three to four hours for her to be fully healed. Gon immediately rejects this, and Pitou asks for at least one hour to be able to stabilize her, begging him yet again. Gon asks them if they promise to go to Peijin with him and fix Kite afterward. Pitou agrees, and Gon slowly sits down in front of them, resting his right arm upon his knee and saying he will wait there for the entire hour.
Characters in Order of Appearance
Community content is available under
CC-BY-SA
unless otherwise noted.