Missileman (卵男, Misairuman) is the 276th chapter of the Hunter × Hunter manga, written and illustrated by Yoshihiro Togashi.
Knuckle goes against the plan and shows up before Menthuthuyoupi, in order to lead him away from Shoot. Just then ten seconds pass and A.P.R. adds interest. This frustrates Youpi and he tries to hit A.P.R., but to no avail. He then leaves A.P.R. and tries to attack Knuckle, ordering him to tell him why his attacks didn't work on it. Knuckle expertly dodges the attacks and confidently shouts that he won't. He leads the Royal Guard away from Shoot into another room. Before Youpi follows him, he blows up the staircase that led to the room.
Meanwhile, Meleoron, who was observing silently, curses Knuckle for trying to fight Youpi alone. He decides to follow the two, walking slowly, but efficiently, so as not to lose breath.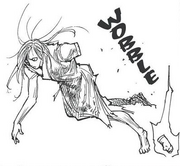 Even Shoot tries to follow Knuckle, but his injuries do not allow him to do so and he falls to the ground. Realizing that he couldn't move anymore, he switches his focus to staying conscious, as Hotel Rafflesia would deactivate if he were to fall unconscious. Meleoron passes Shoot on the way and hesitates at seeing the Hunter's condition. But he sets his priorities and decides to follow Knuckle instead of saving Shoot, and prays that Shoot stays alive.
Upon reaching the room, Meleoron looks around to confirm if no one was there. He then releases Perfect Plan to catch his breath, only to activate it again. While leaving the room, Meleoron spots Morel's Smoky Jail indicating that Morel's and Shaiapouf's battle was still ongoing. He decides go find Killua and Gon and help them.
As he was about to turn a corner, he encounters Welfin and stops indecisively. Knowing that he couldn't hold his breath any longer, he runs round a corner and deactivates and activates Perfect Plan quickly.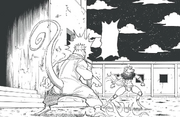 Even in that second, Welfin senses Meleoron's presence and immediately puts his guard up, activating Missileman, a power that enabled him to find and get information from a person efficiently. But the attack fails as Meleoron was using Perfect Plan, leading Welfin to believe that there was one more terrorist amongst the enemy. Realizing the risk he could be in, Welfin begins to question whether or not finding Bizeff should be his top priority.
The chapter ends with Meleoron safely reaching the building in which Gon, Killua, and Neferpitou were at and comes into contact with Killua.
Characters in Order of Appearance
Edit
Community content is available under
CC-BY-SA
unless otherwise noted.