Wiki Targeted (Entertainment)
Play Sound
Direct Hit (直撃, Chokugeki) is the 280th chapter of the Hunter × Hunter manga, written and illustrated by Yoshihiro Togashi.
Synopsis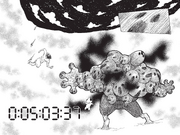 Knuckle spies on Youpi from a distance, with Shoot leaning up against a pillar, barely remaining conscious. Knuckle says it's been five minutes since Hakoware was activated, so Youpi's debt should reach 7,000 aura soon. However, he worries about taking a direct hit and it doing enough damage to terminate A.P.R. and hurting him. He says it will take ten minutes for Youpi to go bankrupt, but is unsure if Shoot can survive that long. Running to the entrance of the crater, Knuckle draws his attention, and Youpi is gleeful that his fake rage has worked. He continues to complain about A.P.R., all the while carefully going through his plan in his head. Knuckle mocks him before suddenly charging in at A.P.R.'s next announcement, right as Youpi begins to swell with rage.
Knuckle reassures himself that his plan will work, and remembers to punch Youpi twice in the face, making his escape right before the explosion. He reflects on his relationship with Shoot, having considered him annoying at first, but now thinking of him as a best friend. He believes it was inevitable given the life-and-death situation the two are in, but also because of how badly Youpi disrespected Shoot, when he had given everything in their fight. Thoughts continue to flood Knuckle's mind, enraging him even more, and he decides to throw three punches now, two for Shoot and one for himself. But he realizes how quickly his mind is moving and remembers the saying that time feels like it slows down before one's death.
Right as he says this and closes in, Youpi shrinks back to his normal size, leaving Knuckle in disbelief and expecting the worst. He realizes the damage from Youpi's punch will easily offset all the lent aura, apologizing to the team and leaving the rest up to them. But all of a sudden, Killua unleashes Thunderbolt from high up in the air, with Meleoron holding onto him. Youpi is stunned mid-punch, and Knuckle seizes his chance, landing a hard left directly to his face.
Characters in Order of Appearance