Metamorphosis (変貌, Henbō) is the 293rd chapter of the Hunter × Hunter manga, written and illustrated by Yoshihiro Togashi.
Synopsis
The horde of hypnotized citizens is shown still standing in front of the palace, and in the east tower, the captured human mentioned by Pouf finally emerges from its cocoon. Killua finishes his electrical recharge, but as he starts to move down the hallway, he gets the feeling that someone is watching him, and quickly darts for cover. He slowly rolls his one of his yo-yos into the hallway to check the reflection, at first seeing no one, but suddenly glimpsing a figure slowly approaching—the figure of Palm transformed into a Chimera Ant. Seeing her with scales on her arms and legs, and a large orb on her forehead, Killua is shocked and realizes she must have been captured by the Royal Guards. He immediately thinks about how Gon will react, and worries that he could completely lose it, especially if Palm's mind has been altered as well.
Killua reveals himself to Palm, hoping there's a chance she retained some of her sense of self. He's confident that she saw him first, but remembers back to her ability and how it probably has something to do with clairvoyance. Since Palm was unable to see him directly from her location, Killua believes she somehow sensed him and thinks that she would have kept her distance if she didn't remember him. But he gets confirmation that she does remember him when Palm utters his name, then asking where Gon is. Killua shows relief on his face, slowly walking toward her as she comments on her appearance and wonders if Gon will like her anymore. The two go back and forth about Gon, but she continues to ask where he is, prompting Killua to say he's with Pitou. But Killua suddenly hesitates, wondering how she saw him but not Gon.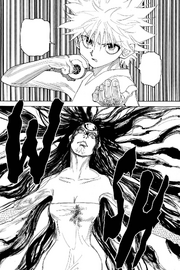 Palm asks him what's wrong, and he wonders if she approached him by chance. She replies that he's the one who came around the corner, and Killua catches her in a lie, with Palm calling him a pest and asking again about Gon's location. Killua realizes that she must have seen him coming her way, backtracked, and then acted like she was approaching him. With an angry look on her face, Palm again asks where Gon is, but Killua readies his yo-yo and says he won't answer an enemy. Palm's hair suddenly grows in length and covers her entire body, and she tells him she's realized that it's better to yield to her rage than to keep it locked up.
Killua becomes extremely worried, and with her new ability, Black Widow, Palm charges at Killua and shatters his thrown yo-yo, sending him flying back and following up with a quick series of punches. She asks him whether he wants to stay silent, surrender and talk, or die, with Killua feeling the full effect of her new power. Elsewhere, having disregarded Meleoron's protests, Knuckle approaches Pouf, still waiting in the doorway near Gon and Pitou, and tells him to step outside.
Characters in Order of Appearance
Community content is available under
CC-BY-SA
unless otherwise noted.