Wiki Targeted (Entertainment)
Play Sound
Breakdown (決壊, Kekkai) is the 294th chapter of the Hunter × Hunter manga, written and illustrated by Yoshihiro Togashi.
Synopsis
Palm's Black Widow is explained in detail, extending her hair in length and covering her entire body. The final shape is determined by her emotions, with Palm currently sporting a dress, heels, and a large sun hat. The ability is completely defensive in nature, but this allows Palm to direct all her focus on attacking. She strikes Killua with another heavy punch, sending him far back as he blocks it with his right arm. He remembers that she was an Enhancer, and comments on her incredible power with this new ability, concerned that he won't last if her barrage continues. However, he knows he has to keep Palm away from the already-distressed Gon at all costs, even if she still has some of her former self.
He quickly asks her why she wants to see Gon, hoping for a good reason, but she says she just wants to see him and knows he's close, sending Killua back with another punch and quickly pursuing him. Killua dodges in time and suddenly apologizes for calling her an enemy, confident that she's still Palm. She appears surprised, and Killua goes on to explain the situation with Gon and how Palm's new appearance could upset him even more, telling her to promise to use his name first and to let him know she's okay when she meets him.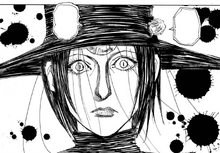 He continues to tell her how much Gon was thinking of her before the invasion, and it's revealed that Killua was just saying this to buy time, by no means planning to let her see Gon. But as he continues to speak about Gon and his fragile state of mind, tears begin to roll down his face and he slams his fists into the floor, screaming out in frustration and sadness at being unable to help Gon anymore. A small Pouf suddenly appears from behind Palm's hat and tells her that the plan has changed, calling her "Number 1" and ordering her to kill the defenseless Killua.
A flashback to when Palm infiltrated the palace. She had approached the central staircase, and was enveloped by Pitou's fresh En, suffering a mental breakdown just as Knov had from Pouf's. As the two Royal Guards drew near, her mental state deteriorated even further, imagining herself as a victim of Bizeff, and attempted to commit suicide on the spot. But Doctor Blythe prevented this, and the two were so fascinated by the power of her aura that, with the King's approval, they decided to make her the first test subject. It's explained that those with enough willpower, especially those with Nen, are more likely to retain past memories that could cloud the emotions of their new self. Pitou and Pouf were aware of this, and the former used Doctor Blythe to break the synapses between Palm's memories and her emotions. They had previously experimented on both Cheetu and Leol, learning that those retaining their memories emerged from their cocoons more quickly. This plan of allowing puppets to keep their memories made Palm the ideal first test subject.
As Killua sits still in despair on his hands and knees, Pouf gleefully gives the order again, commanding her to kill him. But Palm coldly silences him, leaving both Pouf and Killua in shock, and yells that her name is Palm Siberia as she smashes the tiny Pouf. Deactivating Black Widow, she assures herself that she will never be a tool for the Ants, and thanks Killua for removing the wall in her mind that was separating her from her emotions. She tells him to never believe he's powerless, offering to help Gon however she can, but reminding him that Gon needs him the most. It's mentioned that in those trying to recover, especially from brain injuries, the love from family and friends can hasten recovery and defy medical expectations.
Pouf continues to fly toward the King with Youpi, who wonders what's wrong after Pouf seems disappointed. He says it failed, leaving Youpi confused, and continues to fly on, thinking to himself that they will need soldiers with both memories and emotions anyway. Consequently, Pouf believes he will no longer need Pitou's ability and is confident he can make soldiers on his own. As he accepts Knuckle's offer to fight, he happily envisions a kingdom made for only himself and the King.
Characters in Order of Appearance