Wiki Targeted (Entertainment)
Play Sound
Determination (決意, Ketsui) is the 295th chapter of the Hunter × Hunter manga, written and illustrated by Yoshihiro Togashi.
Synopsis
Pouf immediately informs Knuckle that the body he sees is just a shell, and that his core is making its way to the King. It's explained that Pouf assumed that Knuckle had learned about his ability from Morel, and Knuckle confirms this for Gon's sake, but asks Pouf why he mentioned it. Pouf's mind lingers on Youpi, and the fact that Knuckle is alive confirms that Youpi allowed him to live and didn't tell Pouf. He decides he has to settle things peacefully here in order to question Youpi about what happened. And so he tells Knuckle that he revealed the information about his shell and core in order to gain Gon's permission to let him leave.
Pouf agrees to face Knuckle, but stresses he won't use any of his abilities, only wanting to talk and knowing that Knuckle will fall for such a straightforward approach. Gon, on the other hand, immediately calls out his hypocrisy, since Pouf had just recently tried to take him by surprise and kill him. He tells Knuckle not to fall for his tricks, asking how they can be sure that he's actually telling the truth about his shell and core. Pouf realizes how much trouble Gon could cause, considering him to have the most unrelenting determination of all their enemies. He believes himself lucky that he is so focused on Pitou, and tells him that he can't verify his earlier statement without giving himself a big disadvantage, playfully saying that they can decide how things play out now. Pitou seems extremely concerned and tells Pouf to stop, but he suddenly bursts apart into his tiny clones, informing Knuckle that he will wait for ten minutes at the front gate if he still wants to duel.
Pitou desperately tries to appease Gon, apologizing for Pouf's action, but Gon also says ten minutes, clarifying that they now have ten fewer minutes to heal Komugi. Pitou begins to tremble, first at Pouf's reckless decision, but even more so at Gon ignoring it and then reducing the amount of time. It's revealed that Pitou's initial request of three to four hours was solely to protect Komugi as much as possible and that the one-hour decision was the actual time that it would take to heal her. But even with ten fewer minutes, Doctor Blythe could completely heal Komugi with the remaining time since it had begun to improve through Pitou's repeated use of it. Even though they are fairly certain that Gon only chose ten minutes because it's the amount of time that Pouf gave, Pitou can't help but think that Gon's awareness and focus were so heightened that he could predict something like Doctor Blythe's subtle improvement.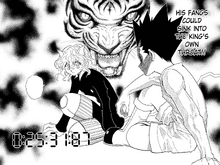 Because of this, Pitou understands the risk that Gon could pose to the King and how important it is to stop him. Gon tells Knuckle that he can deal with things here, and believes that Pouf was telling the truth about his core, knowing that he went south toward the King. Gon knew which direction the King went because he had seen him and Netero leave, but Pitou was unaware of this fact and panics, thinking that Gon had realized Pouf's plan. Understanding just how dangerous Gon is, Pitou resolves to kill him for the King's sake, no matter the cost. But they quickly think about Komugi, unable to risk her life and wondering to whom they should entrust her, especially when both Pouf and Youpi wouldn't agree to it. Before Knuckle leaves, he begins to reveal what happened with Youpi, but quickly restrains himself, realizing the danger Gon could be in if the information made him hesitate or affected his mental state any further.
In the basement, Ikalgo continues to weep, but quickly refocuses on finding Palm, suddenly noticing on the monitors that multiple doors have been opened when he wasn't looking. Crouching on the table behind him, Welfin appears with his Missileman ready and threatens to shoot if he tries anything during his questioning. Ikalgo realizes that Welfin will torture him if necessary to reveal any information about his friends and their abilities. However, hoping that he's a Manipulator, he suddenly expands the size of his head, with Welfin desperately threatening to kill him. Ikalgo calmly tells him to do so, preferring to die rather than betray his friends, as he quickly forms his Fleadom and fires a round at the panicked Welfin.
Characters in Order of Appearance