Wiki Targeted (Entertainment)
Play Sound
Flash (閃光, Senkō) is the 308th chapter of the Hunter × Hunter manga, written and illustrated by Yoshihiro Togashi.
Synopsis
Meruem continues his search of the palace, finding the west tower empty as Pouf desperately hopes to buy enough time for him not to remember Komugi. Meruem still feels like something is missing, and Youpi assures Pouf that he won't tell Meruem about Komugi, desiring things to stay as they are. Meruem believes his sense of longing could just be due to the memory loss, and his two Royal Guards are confident that he will make a full recovery soon. He asks them about the selection process happening at noon, and they tell him they can move things up since the rest of the citizens will be in place by 9:00 a.m. But Pouf remembers that he hasn't hypnotized the newly arriving citizens, and plans to use his scales to do so. Meruem asks Youpi what he plans to do, and he says he will look for Pitou since he isn't very useful in his current form. The mention of Pitou brings back Meruem's memory of them, and Pouf is now worried that names can be a trigger, hoping he can convince Pitou to side with them.
Another pain runs through Meruem, and he remembers entrusting something to Pitou's care and giving them an order. He orders Youpi to summon Pitou, planning to look for them himself as well as to track down the remaining enemies at the palace, both to get information from them and for his own fun. Pouf questions his decision to go off on his own, and an enraged Meruem asks him if he believes any of the enemies could defeat him, his aura immediately silencing both guards and making them realize that quantity of aura alone could win a battle. Trembling with fear, Pouf quickly backs down and says that Meruem is without equal in strength. 
The King's terrifying aura reaches the others around the palace and fills them with terror, causing Knuckle to immediately realize the hopelessness of the situation and to tell Meleoron they need to make their way through the crowd back to Peijin. Meleoron worries about the others, but Knuckle knows they will reach the same conclusion after feeling the King's aura. Meleoron tries to convince him that their combination attack will work, but again Knuckle stresses how dire the situation is: even if they're able to land an attack, the two would have to stay within 50 meters of the King for A.P.R. to add interest, and unless Meleoron has the lung capacity of Morel, it would be pretty much impossible. In addition, Knuckle worries that they already know their abilities and can easily counter them, worrying that he should have already contacted the Association to tell them about Netero's death so they can begin a backup plan.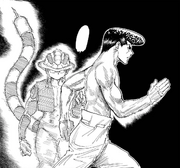 With Knuckle driven by duty, and Meleoron by revenge, the two-step forward at different rates. But at that moment, Meruem's En illuminates the entire palace, and he suddenly appears right beside Knuckle, applying pressure to his neck and knocking him unconscious. Meleoron is unable to even think about using Perfect Plan before Meruem quickly strikes the back of his neck, putting him to sleep as well. A.P.R. vanishes from Pouf, and Meruem reappears before the Royal Guards, holding both Knuckle and Meleoron and saying he plans to question them later. He had sensed two others with his En, as Ikalgo and Palm carrying Komugi on her back are seen desperately running away, with Pouf fearing that one of them has Komugi.
Characters in Order of Appearance