Wiki Targeted (Entertainment)
Play Sound
Action (始動, Shidō) is the 310th chapter of the Hunter × Hunter manga, written and illustrated by Yoshihiro Togashi.
Synopsis
Not yet hypnotized, citizens at the back of the crowd talked amongst themselves and wonder what's going on, hearing rumors about the soldiers falling like broken puppets. They talk about the loud sounds they've heard coming from the palace, and think a coup could be happening. As they continue to speculate, a dust cloud suddenly falls upon them, hypnotizing them as Pouf flies high above. He worries that he won't be able to scatter his scales as well as before, since he gave 6/7 of his body to revive Meruem. He notices that Pitou's puppets have vanished, and wonders what kind of battle they're fighting if they need that much aura. Finally, Pouf is concerned that he's unable to use Beelzebub while scattering his scales, but knows this will be his last chance to find and kill Komugi.
Youpi searches the palace grounds, unable to find Pitou even after ten minutes. Welfin lets Bizeff's women go, telling them to untie their bonds and to escape in one of the trucks. He sees Bloster still unconscious in the back of the truck and remembers Ikalgo saying he was one of them and to take him along. He drives off, and thinks back to his conversation with Ikalgo, asking him how he knows Gyro is alive. Ikalgo can't be completely sure, but knows Gyro would not have died like that. Back in the present, Welfin proudly thinks that Ikalgo is right, declaring that the Ants are their enemy, and in exchange for getting him to see the truth, finally decides to go along with Ikalgo's plan.
He drives the truck back outside, and Youpi immediately intercepts him. Welfin plays his role as the messenger, telling the Royal Guard that the enemy has Komugi in a warehouse underground and want to trade her for their friends. Youpi tells him he will relay the message to the King, but secretly keeps his promise to Pouf, planning to keep the information between themselves and continuing to wonder what Pitou is doing.
As Youpi flies away, Welfin angrily reminds himself that the Ants are their enemy, as well as Gyro's. He gets Youpi's attention and asks him if he remembers anything from before he became an Ant. Youpi sternly says he doesn't, declaring that there's no before and after and telling him to not ask stupid questions. But Welfin gets his attention again, angering Youpi as he suddenly sees Welfin ready to attack. Welfin tells him that he has some more questions, telling him to answer in five seconds. Youpi threatens him with a menacing glare, but blood begins to run from his nose.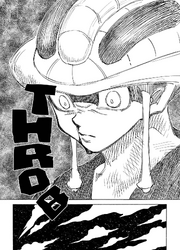 Back in the west tower, with Knuckle and Meleoron still unconscious, Meruem continues to look for clues and suddenly spots a broken Gungi piece. He instantly remembers that he was playing a game with someone, unable to remember who, but knowing that he hasn't beaten them one time yet. As these memories flood his mind, the throbbing pain resurfaces, and his nose begins to bleed as well.
Pouf finishes his hypnotizing of the crowd and flies back hopeful that Pitou has returned, but suddenly spots Youpi motionless on the ground. He approaches his body, dry blood near his nose and mouth, and yells out to Meruem once he realizes he's dead. He returns to the west tower and urgently informs him of Youpi's death, but Meruem just asks about Pitou's location. Pouf is still unsure, and Meruem says he can finally act now, with Pouf stressing how dangerous things are. But Meruem says he has won their game, ordering him to tell him everything as he reveals a game board he's made on the room's floor. Pouf is in disbelief and follows Meruem as he exits the tower, desperately wondering where Pitou is. Underground, Palm tells Ikalgo that everything is fine now, leaving him confused as to what she means.
Characters in Order of Appearance