Wiki Targeted (Entertainment)
Play Sound
Real Name (本名, Honmyō) is the 316th chapter of the Hunter × Hunter manga, written and illustrated by Yoshihiro Togashi.
Synopsis
Morel talks to Beans on the phone informing him that Netero did his job, but they have not confirmed it yet. They are waiting for Palm's word, who is seen with Ikalgo. Beans questions the authenticity of confirming Meruem's death with just one person. Morel argues that Beans' men can write up the perfect report, and people on the field trust each other when someone says that they can handle the situation. After the phone call, Beans opens a hidden safe and retrieves a disc. He quietly thanks Netero for his service and hopes he can rest in peace.
Morel then receives a phone call from Colt. He reassures Colt the politicians are treating the situation as a diplomatic issue: the Chimera Ants will be classified as a new species and there will be no problems regarding their existence. However, there is something else on Colt's mind, and Morel asks him what it is.
Meleoron sits by Shoot's bed. Knov and Knuckle are waiting outside, as a senior doctor comes out from Gon's room. Knuckle approaches him and inquires about Gon's condition. The doctor replies that Gon is still in extremely critical condition, saying that he has to stay on life support and should not be moved. He is in disbelief over Gon's appearance, wondering how a 12-year-old could have transformed into that in a single day. Knov says that he will bring specialists to Gon since he is a hero and deserves it. He swears he will not let Gon die, even if it means rebuilding half the hospital.
Killua is watching over Gon through a window. He reflects over what happened when they encountered Neferpitou. He understands that it was Gon's fight and how much Kite meant to him, but still he wishes that Gon would have asked for his help in fighting Pitou. He thinks about what Gon meant when he said "let's go", wondering if he meant for the sake of the mission or as friends. Then Killua says to himself that it is the same thing every time: Gon runs ahead and Killua cleans up his mess. He continues, saying that he will do it again, and will make sure that Gon makes it up to him and apologizes this time.
Knov comes in and says to Killua that he will organize a medical team for Gon. He invites Killua to come with him, but Killua refuses and says that he is going to save Gon. He then says that Gon will need the doctors until he gets back, leaving Knov stunned. As Killua leaves, he takes out his phone and repeats that he will be the one to bring Gon back.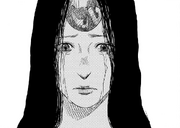 Meanwhile, Colt continues his conversation with Morel and tells him about the girl he's been taking care of, and that she keeps saying her name isn't Reina. Amidst a collection of girls, as she plays with a toy sword, the little girl adamantly says that her name is Kite. Dumbfounded by the news, Morel runs through the hospital lobby, yelling out for Gon and Killua. Elsewhere, Palm slowly approaches Ikalgo and, with tears streaming down her face, tells him it's over.
Characters in Order of Appearance