Strong × Or × Weak (ツヨイ × カ × ヨワイ × カ, Tsuyoi × Ka × Yowai × Ka) is the 119th episode of the Hunter × Hunter 2011 series. It first aired on March 5th, 2014.
Overview
Killua briefly takes on Menthuthuyoupi in a battle and overpowers him. Meanwhile, Ikalgo plans various attempts to escape from Bloster. His weakness takes over, being unable to kill Bloster when he had the chance.
Summary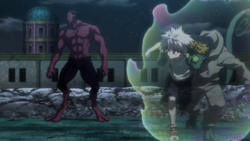 Killua descends the crater and activates his Nen ability Godspeed. He attacks Menthuthuyoupi continuously, with the Chimera Ant unable to attack back because of Killua's speed. Menthuthuyoupi becomes interested of the turn of events. Suddenly, Killua's Godspeed powers down. He races immediately back onto the surface, chased after by Menthuthuyoupi. But he does not find Killua; Meleoron has arrived and used his ability God's Accomplice to turn him and Killua invisible.
In the underground, Bloster encounters difficulty ascending. The elevator needs a pass-code which Bloster has no idea about. He enters one pass-code, and the elevator's system rejects it. Ikalgo plans how to get rid of Bloster. His initial plan is to take Bloster away after the elevator releases the sleeping gas. Another plan is to kill Bloster and Ikalgo will use his corpse to escape. As the system demands another pass code, Ikalgo rushes into the monitor room. Bloster escaped the elevator by shooting the doors and Ikalgo hides himself in the monitor room. He closes down the shutters, trapping Bloster. The sleeping gas in the elevator is released and Bloster takes the last pathway Ikalgo prepared for him. But as Ikalgo closes the shutters again, Bloster propels himself with his guns and escapes the trap.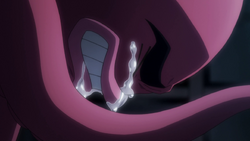 Ikalgo stresses himself on how to take out Bloster and comes up with his final plan. The shutters open again and on the other side is an armor vehicle. Bloster takes it on, firing on the vehicle's side and destroying the tires in the process. The vehicle slams into the entrance of the elevator, blocking Bloster's entry. From the inside, Ikalgo light up a fire and uses the smoke to escape. He enters the elevator by squeezing through the small gap between the vehicle and the doors. The sleeping gas fills the room and Bloster falls asleep. Ikalgo prepares to take him out but eventually retreats back into the monitor room, crying for his weakness. Within the shifted central tower, Morel doubts his next course of actions. He contemplates whether to attack or not.
Characters in Order of Appearance
Community content is available under
CC-BY-SA
unless otherwise noted.