Great Power × And × Ultimate Power (ブノツヨミ×ト×ブノキワミ, Bunotsuyomi × To × Bunokiwami) is the 125th episode of the Hunter × Hunter 2011 series. It first aired on April 16th, 2014.
Overview
Gon presses to Neferpitou the remaining ten minutes for Komugi's recovery. Meanwhile, King Meruem and Chairman Netero continue on their battle, succumbing into an underground tomb, which Netero states will be Meruem's tomb.
Summary
On the west tower's second floor, Meleoron watches closely as Knuckle appears behind Shaiapouf. He challenges Shaiapouf in a battle, which the Royal Guard does not deny, but Shaiapouf also admits that he is only a clone, and that his main body is already making its way towards the King. By admitting that, Shaiapouf wanted to have a mental advantage. Knuckle asks Shaiapouf why he told him, and Shaiapouf answers for the sake of Gon, who demanded him to stay in the room. Gon speaks up, saying that Shaiapouf is lying and actually plans to kill him from behind. Gon demands that Shaiapouf prove himself to be clone, and Shaiapouf responds by bursting into thousands of small clones of himself. He states that he will wait by the palace entrance as answer to the challenge to him.
Neferpitou apologizes to Gon about Shaiapouf's behavior, and is demanded that he has less than ten minutes to heal Komugi. Neferpitou agrees, well knowing that Komugi will be healed in the remaining time. But he worries about who will watch over Komugi when he will fight against Gon. Neferpitou then is resolved to kill Gon. Before Knuckle leaves to fight Shaiapouf, Gon states the possibility that Shaiapouf's main body is on his way to the King, and he also reveals that the King is in the south, which surprises Neferpitou.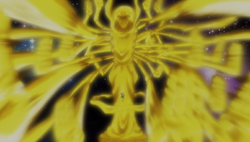 As Meruem proceeds to his fighting stance, Netero takes up to the sky and recalls his moments when he waited for his opponent to move. He activates his Nen ability, 100-Type Guanyin Bodhisattva, and uses the Ninety-Ninth Hand move. Meruem gets caught up in the massive attack and seems to be at the disadvantage. Due to the massive power, the ground crumbles and the two fighters descend inside a tomb, which Netero calls Meruem's tomb. Again, Netero attacks the King, sending him flying across the underground tomb. As the King prepares to retaliate, Netero expresses his gratefulness for their meeting.
Characters in Order of Appearance
Community content is available under
CC-BY-SA
unless otherwise noted.