Unparalleled Joy × And × Unconditional Love (ムジョウノヨロコビ×ト×ムショウノアイ, Mujounoyorokobi × To × Mushounoai) is the 128th episode of the Hunter × Hunter 2011 series. It first aired on May 7th, 2014.
Overview
Shaiapouf and Menthuthuyoupi sacrifice a part of themselves for the King's speedy recovery. Meruem suffers from memory loss, prompting Shaiapouf's other clone to return to the place and kill Komugi. The clone is intercepted by Knuckle and Meleoron; Palm announces that the King is alive and well.
Synopsis
Following Shaiapouf and Menthuthuyoupi's discovery of the King from The Poor Man's Rose explosion, Netero is revealed to have perished with Meruem. Menthuthuyoupi holds the motionless King in his arms, but gains hope when Meruem moves and breathes. In an attempt to save him, Shaiapouf offers his life cells which the King sates himself. The brief strength that Meruem felt urges Menthuthuyoupi to liquefy his cells and made the King drink from it. Meruem introduces himself by name and allows his two Royal Guards to start calling him that. He praises Shaiapouf and Menthuthuyoupi, which the two Guards greatly appreciate.
Meruem emerges back to his former self, albeit suffering from temporary amnesia from the explosion. When he turns and sees Shaiapouf and Menthuthuyoupi in bee-sizes, he asks them what happened. Though Menthuthuyoupi is reluctant to answer, Shaiapouf answers that he has sent his clones to scout the area. Meruem threatens Shaiapouf for lying and gives him a second chance in explaining. Shaiapouf admits that he and Menthuthuyoupi offered themselves to the King despite the consequences. Then, Menthuthuyoupi suggests that they should return to the palace. Shaiapouf's other clone rushes back into the palace in hopes of killing Komugi while the King is still suffering memory loss. He guesses that it will take twenty minutes for the King to return to the palace. However, Meruem inherits Menthuthuyoupi's ability to grow wings. He takes flight while both Shaiapouf and Menthuthuyoupi clings onto his tail.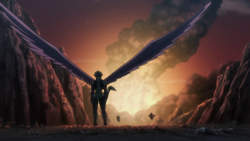 Back in the palace, Shaiapouf's clone arrives in the room, but doesn't find Komugi there. He is suddenly attacked by an invisible Knuckle and Meleoron. At the doorway, Palm shows herself and announces that she has seen Shaiapouf coming through her Wink Blue ability. Meruem notices Knuckle's A.P.R. following behind them and Shaiapouf claims that it is from one of the enemies. As the King and his entourage fly back towards the palace, Palm gets surprised and announces to the Extermination Team that Meruem is still alive.
Characters in Order of Appearance
Community content is available under
CC-BY-SA
unless otherwise noted.