No × Good × NGL (NG × ナ × NGL, NG × Na × NGL) is the 79th episode of the Hunter × Hunter 2011 series. It first aired on May 12th, 2013.
Overview
The NGL allows Kite, Gon, Killua and two other members to enter their country due to strict regulations inside their borders. Meanwhile, the second team of Hunters is attacked by the Chimera Ants whose human DNA triggers a sense of individuality that brings conflict among their ranks.
Summary
| | |
| --- | --- |
| | This article or section is a stub. |
| You can help Hunterpedia by expanding it. | |
The Chimera Ant Squadron Leaders have finally adapted the naming system. It turns out that many of the Chimera Ants who have the ability to talk and are appointed as Squadron Leaders prefer to do things their own way. They have invaded many large towns and are easily able to fulfill their quota.
Yunju and two other Chimera Ants attack Gyro's men. Meanwhile, ten Hunter groups have already reached NGL, including Pokkle's team. Kite and the others are the last ones to arrive. His team has trouble getting through the NGL Border Stop because they uphold strict policies for not allowing any kind of manufactured or artificial material inside their borders, so anything not from nature is not allowed in NGL. After many medical tests on each member of the group, only Kite, Killua, Gon, Stick Dinner and Podungo Lapoy were able to go inside NGL.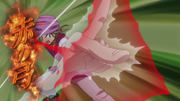 Somewhere inside, Pokkle's group examines the dead body of one of Gyro's men. Suddenly they're attacked by three Ant soldiers. Pokkle uses his Red Arrow Nen ability to shoot red arrows that burns one in the face and they all run away. Ponzu trips and is almost attacked, but Pokkle is able to save her by launching two red arrows at the same time, taking out both aggressors. In the end, Gyro's base is attacked by Yunju's team. 
Characters in Order of Appearance
Community content is available under
CC-BY-SA
unless otherwise noted.