"The Pleasure Capital" - Glam Gas Land (享楽の都・グラムガスランド, Kyōraku no Miyako - Guramu Gasu Rando—lit. "Capital City of Enjoyment - Glam Gas Land") is a city in the northern part of the United States of Saherta, on the Yorbian Continent, to the northeast of Yorknew City.[1] It is where the events shown in the one-shot Hisoka's Past take place, not appearing elsewhere nor being mentioned by anyone in the Hunter × Hunter series.
Overview
For several past years, this area covered by red earth mountains was poor. A tribe of migrants, the Glam Caravan, discovered a natural gas resource among these mountains and settled near the gas deposits, abandoning its centuries-old nomadic lifestyle. In the years hence many people came in search of the gas. Occasionally the gas reserves were depleted and the Glam Clan, enriched by their administration of the resource, switched to the casino management business. Hotels that were built alongside the casinos, competing with each other trying to draw guests, began to attract the best magicians and performers for their shows. Consequently, the show business became the city's trade and symbol.[1]
Plot
Hisoka's Past spin-off
The following is content from a one-shot written and illustrated by Sui Ishida and recognized by Yoshihiro Togashi, but may or may not be considered canon.
| | |
| --- | --- |
| | This article or section is a stub. |
| You can help Hunterpedia by expanding it. | |
Locations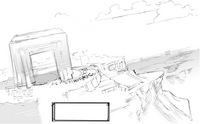 Notable places in Glam Gas Land are:
Trivia
Las Vegas may have been the inspirational base for the creation of this city given some of its characteristics, such as be: located in a desert defined by numerous mountain ranges, a renowned resort city known for its gambling/entertainment/nightlife, and a city famous for its mega casino-hotels and associated activities that bills itself as "The Entertainment Capital of the World" a.k.a. the "City of Lights" and "The Gambling Capital of the World". Although, part of the city concept/story is slightly drawn from a generic view of real arabic-like tribes/groups enriching by taking possession of oil resources and creating grandiose cities full of features.
References
Community content is available under
CC-BY-SA
unless otherwise noted.