The Hyper Puffball (マリモッチ, Marimocchi) is a Greed Island monster that lives in the hills.[1]
Overview
It looks like a small black round fluffy puffball with a tail and skinny legs. Its attacks are weak[1] but the creature has a durable body.
Plot
Greed Island arc
In its first appearance, it bounced into Gon's chin, and then bounced at hyper-sonic speeds making it impossible to see.[1] Soon after doing some training with Biscuit Krueger, Gon was able to catch it and change it into a card.[2]
Card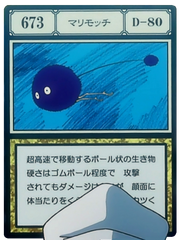 A D-rank card with a 80-card limit. Its designated number is 673.[3] It can be obtained once a Hyper Puffball is caught.[2]
Abilities & Powers
While the Hyper Puffball cannot do damage, if you take many direct hits from it; it can be quite irritating.[1] It can move at hyper-sonic speeds making it difficult to catch.[1][2]
How to Combat
The Hyper Puffball's ability to bounce at high speed propels it in straight seemingly random trajectories which actually has a pattern, through careful observation[1] it is possible to anticipate Hyper Puffball's moves and catch the creature; then turning it into a card.[2]
References
↑

Hunter × Hunter - Volume 14, Chapter 137
Community content is available under
CC-BY-SA
unless otherwise noted.