Kaze no Uta is the first ending theme of the Hunter × Hunter 1999 series. It was sung by Honda Minako.
Characters in order of appearance
Edit
kiita no ne
daichi ni soyogu kaze no koe
tooi kioku yobisamasu
 
oboeteru
aoi sumire no saisho no kaori
anata no inochi atatameta
 
kumono nagareru sakini nani ga aruto iuu no
mori no mukou no ashita o shitte shimatta no ne
 
ikinasai saa
yakusoku no ie furimu kanaide
shinjinasai saa
afureru omoi tsuyosa ni kaete
kakemawaru anata no ashioto
watashi wa hitori kaze ni sagasuwa
 
tsuki akari
nami no kanatani hikaru kage
tsuyoi kizuna yondeiru
 
yuunagi no
umi ni utsutta anata no hitomi
haruka na sora o mitsumeteru
 
areru umi o shiranai kawa no nagare no youni
kaeru koto no dekinai unmei ga aru no ne
 
ikinasai saa
kokoro de kiita koe no hou e
shinjinasai saa
anata ga erabu subete no mono o
ano kaze ga dakishimete kureru
hoshi no inori ga nemureru youni
聞いたのね
大地にそよぐ 風の声
遠い記憶 呼びさます
 
覚えてる?
青いすみれの 最初の香り
あなたの命 あたためた
 
雲の流れる先に 何があるというの
森の向こうの未来(あした)を知ってしまったのね
 
行きなさい さぁ
約束の家 ふりむかないで
信じなさい さぁ
あふれる想い 強さに変えて
駆けまわる あなたの足音
わたしはひとり 風にさがすわ
 
月あかり
波の彼方に 光る影
強い絆 呼んでいる
 
夕凪の
海に映った あなたの瞳
遙かな空を 見つめてる
 
荒れる海を知らない 川の流れのように
変えることのできない 運命があるのね
 
行きなさい さぁ
こころで聞いた 声のほうへ
信じなさい さぁ
あなたが選ぶ すべてのものを
あの風が 抱きしめてくれる
星の祈りが 眠れるように
Did you hear it?
It's the song that sweeps the land,
recalling the past memory
 
Do you remember?
The scent of the first blossoming violet
gave warmth in your soul.
 
What is waiting beyond the moving cloud?
I think you have discovered your future over that side of forest.
 
Go, now
It's the promised house, and don't look back
Believe it, now
I'll turn my overflowing feelings into strength
I'll be searching alone for your footsteps
in the wind.
 
The moonlight casts the shadow over the waves
Calling back our strong bond.
 
The ocean under the evening sky reflected your eyes
as you stared at the far sky.
 
Like the flowing water of the river
that knows nothing of the raging ocean
There is the destiny that cannot be changed.
 
Go now
Go to where the voice calls your heart
Believe it, now
Everything you choose
that wind will cover it up
So I pray to the stars, for my peaceful sleep
Watch it now!
Edit
TV Version
Edit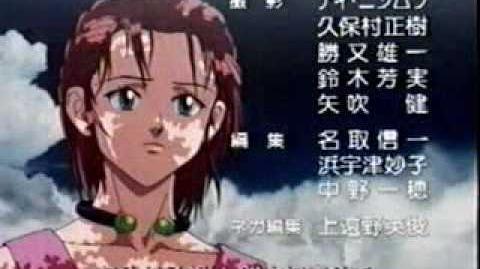 Full Version
Edit