Wiki Targeted (Entertainment)
Play Sound
Linssen (リンセン, Rinsen) is a Hunter[1] and the most senior bodyguard for the Nostrade Family.[2][3]
Appearance
Linssen is a very slender man who is usually dressed in traditional Chinese clothing,[2] but later wears a jacket and collared shirt.[4]
Personality
Linssen is very fearful and cautious, which is shown when he is strongly against Kurapika's decision to capture Uvogin.[5] When subtly criticized by Mizaistom for being a Hunter working for a Mafia family, Linssen shows some pride and justifies himself. He argues that all the family's income comes from gambling and personal security details (both legal) and that they pay their taxes.[4]
Background
At some point during his life, Linssen took and passed the Hunter Exam to obtain a Hunter License. He was also hired as a bodyguard for the Nostrade Family.
Plot
Yorknew City arc
On a private runway at Lingon Airport, Linssen, Ivlenkov, Tocino, Dalzollene, and Squala accompany Neon as she exits an airship and enters into a car that heads toward Yorknew City.[2] On the night of the Underground Auction, Dalzollene instructs the bodyguards at the Hotel Beitacle what each of them needs to do during the auction. Linssen is assigned to guard the rear entrance of the auction house with Basho.[6] Dalzollene coordinates with Linssen and the others after he learns about the massacre during the auction.[7] Sometime later, Linssen and the other bodyguards follow the Phantom Troupe members to the Gordeau Desert. They subsequently witness Uvogin as he massacres dozens of Mafia members.[8]
The Shadow Beasts then appear before the Nostrade bodyguards and challenge Uvogin.[8] During the confrontation, Linssen claims that he has never seen Nen like Uvogin's. Along with the other bodyguards, Linssen is shocked by Kurapika's decision to try and capture Uvogin.[5] To avoid any conflict between them, Melody uses her Nen ability to calm everyone down. Nevertheless, Kurapika still insists on capturing Uvogin and manages to do so. As they drive back toward the city, Linssen spots a car tailing them.[9]
Linssen guesses that they lost them, but Basho points out that it looked like someone landed on top of the car, with Dalzollene confident that it was the other Shadow Beasts. Back in the city, he Nostrade bodyguards try to interrogate the restrained Uvogin to learn what happened to the missing attendees and auction items.[10] After Dalzollene is killed and Uvogin is rescued by the other Troupe members, Linssen and the other bodyguards all agree that Kurapika should become the new head bodyguard so he can contact and inform Light Nostrade of the current situation.[11] When Light arrives in Yorknew and is brought up to speed, he thanks the bodyguards for their work and after he plans to send Neon home, he divulges important information to the group about the Underground Auction, the Shadow Beasts, and how the Ten Dons plan to deal with the Phantom Troupe.[12]
When Kurapika checks the Hunter Website, he sees pictures and descriptions for Neon, Linssen, and the other bodyguards (besides himself and Melody).[13]
13th Hunter Chairman Election arc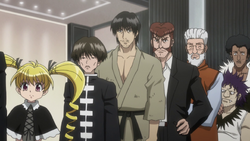 After the death of Chairman Netero, Linssen is seen at the Hunter Association's headquarters to vote in the first round of the 13th Hunter Chairman Election.[1]
Dark Continent Expedition arc
At an undisclosed location owned by the Nostrade Family, Linssen is visited by Mizaistom who wishes to see Kurapika. Linssen informs him that Kurapika is away at the moment and asks him to leave. However, as Mizaistom insists on staying to wait for him, three lackeys prepare to make him leave, but Mizaistom restrains them with his Cross Game ability. Linssen begrudgingly tells Mizaistom that Kurapika is downstairs, warning that he shouldn't provoke him since he's in a bad mood. Mizaistom then wonders why he's working for the Nostrade Family if he's a Hunter, but Linssen retorts that the family isn't a crime syndicate since they get all their income through personal security details and gambling (both of which are legal), and that they pay their taxes. He calmly tells Mizaistom that he has no right to say anything as a result.[4]
After Kurapika arrives, Mizaistom proposes a quid pro quo and asks him to join the Zodiacs and accompany them to the Dark Continent, eventually revealing that he has information on the remaining Scarlet Eyes he seeks. Linssen internally remarks that Kurapika is looking for the eyes' owner and that they haven't found any clues so far.[4]
Succession Contest arc
Days after Kurapika joins the Zodiacs, Linssen informs him that the Kakin Princes are hiring bodyguards for the voyage. Kurapika urgently asks if he can tell which ones are hiring, but Linssen replies that only the salary is shown (which keeps increasing as the Princes try to outdo one another). He finally tells Kurapika that there are six offers.[14]
Abilities & Powers
Linssen has all the benefits granted by his status as a Hunter. He has considerable prowess as proven by the fact that he successfully retrieved an item as part of a test required to be hired as a Nostrade bodyguard.
Nen
Linssen's Nen type is unknown. He is at least capable of using Gyo.[4]
Trivia
Anime and Manga Differences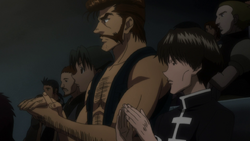 In the 2011 anime adaptation, during the eighth round of the 13th Hunter Chairman Election, Linssen is seated next to Basho in the auditorium and watches as the remaining candidates give their speeches and debate with one another.[15]
Translations around the World
| Language | Name |
| --- | --- |
| Arabic | لينسين |
| Chinese | 凜仙 |
| French | Rinsen |
| Russian | Линсен |
References
↑

Hunter × Hunter - Volume 12, Chapter 112

↑

Hunter × Hunter - Volume 8, Chapter 72

↑

Hunter × Hunter - Volume 8, Chapter 74

↑

Hunter × Hunter - Volume 9, Chapter 77

↑

Hunter × Hunter - Volume 9, Chapter 78

↑

Hunter × Hunter - Volume 9, Chapter 79

↑

Hunter × Hunter - Volume 10, Chapter 89

↑

Hunter × Hunter - Volume 11, Chapter 96

↑

Hunter × Hunter - Volume 33, Chapter 349

↑

Hunter × Hunter - Episode 144 (2011)