Orau (オラーウ, Orāu)[1] is a high-ranking soldier in the Royal Army of the Kakin Empire, and one of the personal soldiers of Prince Benjamin. He is now among Prince Tyson's bodyguards under direct orders from Prince Benjamin.[2]
Appearance
Orau wears the standard Kakin military attire of a zipper jacket, pants, and dark combat boots. He wears an earpiece in his left ear.
Background
As one of the First Prince's soldiers, Orau graduated from Kakin's Royal Military Academy and became a part of his army.[3]
Plot
Succession Contest arc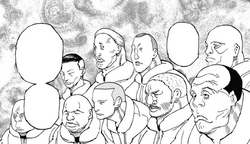 Orau is among the other thirteen soldiers working under Prince Benjamin that is present during Balsamilco's explanation before the journey's start.[2]
Later, Prince Benjamin orders his fourteen soldiers to both act as bodyguards and spies, to all the other princes, and to report any information regarding the Princes' Guardian Spirit Beasts and the Hunters' abilities.[4] He is assigned to Prince Tyson and her Nen beast spawns takes no interest in him.[1]
Abilities & Powers
Orau has received military training.[4]
Nen
Orau is a Nen user, although his superior Balsamilco believes him to be less knowledgeable than Hunters in that regard.[5]
Translations around the World
| Language | Name |
| --- | --- |
| Arabic | أوراو |
| Chinese | 奧拉烏 |
References
Community content is available under
CC-BY-SA
unless otherwise noted.