Pekotero (ペコテロ, Pekotero) is a Temp Hunter[1] and one of the Dark Continent Expedition Team members affiliated with Beyond Netero.[2]
Appearance
Edit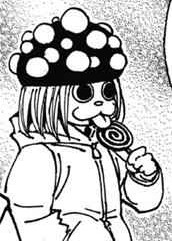 Pekotero is a person of short stature with a short length haircut. He has animal-like features in his face, wears a hat with bubbles, and is often seeing licking a lollipop.
Personality
Edit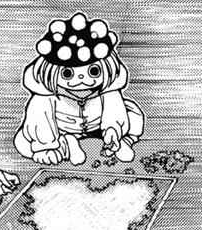 Pekotero seems to like video games and board games. He may have a laid-back personality since he was one of the few who did not object to receiving Ging's money and in general, never opposed him.
Dark Continent Expedition arc
Edit
| | |
| --- | --- |
| | This article or section is a stub. |
| You can help Hunterpedia by expanding it. | |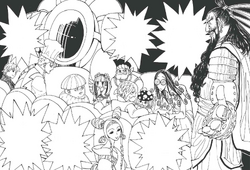 Pekotero is among the people recruited to help Beyond Netero expedition into the Dark Continent. Ging himself later arrives in the lair of Beyond's Expedition Team, and after one of the expedition team members challenges Ging, Pariston interrupts and confirms that he is ranked number two in the team. Ging dismisses it and declares that he will be number two henceforth and that he will pay them double of what Beyond paid them.[3]
Pekotero accepts the money[1] and like the rest of Beyond's team, starts to like Ging and is surprised by his skills.[4]
Abilities & Powers
Edit
Being a member of Beyond's Expedition Team, Pekotero is a specialist in some field. He has all the benefits granted by his status as a Hunter.
As a Hunter, he is able to use Nen. It was, however, never shown or mentioned.
Intertextuality and References
Edit
Pekotero's appearance is similar to that of Fuusuke from the Ninku manga series.
Translations around the World
Edit
| Language | Name |
| --- | --- |
| Arabic | بيكوتيرو |
References
Edit
Community content is available under
CC-BY-SA
unless otherwise noted.