Wiki Targeted (Entertainment)
Play Sound
Sumidori (スミドリ, Sumidori)[1] is one of the personal soldiers of Prince Halkenburg Hui Guo Rou.[2]
Appearance
Sumidori has short fair hair, dark eyes, and a small nose with visible nostrils. As a Royal Bodyguard, he wears a black suit and a tie.[1]
Personality
Like Halkenburg's other private soldiers, Sumidori is fiercely loyal to the prince. He did not display the slightest hint of regret when he lost his body and did not hesitate to stake his life to test Halkenburg's theory about his ability.[1]
Plot
Succession Contest arc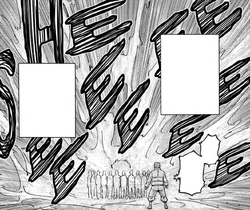 When Prince Halkenburg returns from the banquet on the day of departure, he finds Sumidori and all his other personal guards unconscious on the floor.[2]
Following Prince Momoze's demise, at Halkenburg's request Sumidori and the other personal guards, gather for a moment of silent prayer. Unbeknownst to them, this causes their aura to spike due to the influence of the prince's Guardian Spirit Beast. Halkenburg then leaves Sumidori on duty in the room while he heads out to talk to his father.[3]
On Friday, after Halkenburg fails to end the succession contest and resolves to win it, he transfers Sumidori's consciousness into Shikaku's body through his Nen ability. Sumidori's body goes limp while he, in Shikaku's, stands up and salutes his prince.[4] An analysis of the neural patterns and pulse of Sumidori's body suggests that it is in a state of slumber. Sumidori states that being in Shikaku's body feels no different than inhabiting his own. Halkenburg explains his theory as to how his ability works and asks Sumidori to verify it. Sumidori offers his cooperation.[1]
After Halkenburg activates his ability a second time, Sumidori, still in Shikaku's body, rings the bell to Prince Luzurus' room. After hailing Prince Benjamin, he shoots himself in the head. Back in Room 1009, his own body awakens restrained to a chair as Prince Halkenburg demands that he recite his affiliation and ID number.[1]
Translations around the World
| Language | Name |
| --- | --- |
| Arabic | سوميدوري |
References