Tamazo (タマゾー, Tamazō)[1] is one of the two announcer personalities along with Gantai that are covering the Kakin Empire's voyage to the Dark Continent on the Black Whale.[2]
Appearance
Edit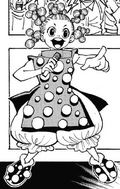 Tamazo's appearance matches her name as she has a round-shaped head, big round eyes, a barely visible nose, and her hair's braided in five different ways that appear like a collection of balls. She dresses in a sleeveless dress with multi-sized ball-shaped orbs scattered around the dress with matching shoes, and visible bloomers.[2]
Personality
Edit
Fitting to her announcer persona, Tamazo has a vivacious personality and gives broad details to all spectators, regarding the special events off and on the Black Whale.[2]
Succession Contest arc
Edit
Broadcast on several giant full-flex monitors, Tamazo and her co-partner Gantai stand on top of a giant stage behind the biggest monitor of them all as M.C.s to the opening ceremony of the Black Whale voyage that will occur the following day. Psyching up the audience asking them if they're ready to not only witness but experience history, the duo present the very man who made it all possible Nasubi Hui Guo Rou. The King gives a small speech and the duo then directs the audience's attention to the second stage where Beyond Netero and the Kakin Royal Family are introduced. An airship carrying the King hoists into the air and lands onto the Black Whale and then the other airships holding the Princes and VIPs follow suit as the M.C. duo cover the entire progress. With that well and done, the M.C.s hope the audience enjoy the festivals.[2]
On the night of the eighth day of the voyage, the M.C. duo make their return to host the first banquet.[3] They begin the banquet with an announcement that due to the poor health of the Eighth Prince Salé-salé, he's unable to attend his "Change the World" performance. However, the duo reassures the audience that they have other exhilarating performances on the line up for that night. Following that announcement, the M.C. duo introduces nearly all of the performing acts and praise them for their talents when they finish. This excludes Melody, whose flute performance puts everyone in the ship in a sleep-like trance.[1]
The character's name written with kanji, 玉蔵, could literally mean "ball warehouse"—a nod to her look.
References
Edit
↑

Hunter × Hunter, Chapter 382
Community content is available under
CC-BY-SA
unless otherwise noted.